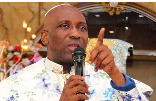 Christianity
2023: Unhealthy candidates should pull out — Primate Ayodele
CITIZENS COMPASS- THE Leader Of INRI Evangelical Spiritual Church, Primate Elijah Ayodele on Sunday, advised presidential candidates for the 2023 presidential elections to look after their health or pull out of the race.
The Primate said the presidential race is not for unhealthy candidates as it requires fitness.
He disclosed this in a statement signed by his media aide, Osho Oluwatosin.
The cleric said campaigns should be issue-based than rhetorics adding that the country is facing economic issues, insecurity, education problems but none of the presidential candidates have addressed these during their campaigns.
The statement reads, ''Presidential candidates are only looking for votes, they have not addressed issues, they are saying they can do all which isn't possible.
""They are not really discussing issues; we are facing insecurity, economic, education problems, they have not explained how they will tackle this.
"Are we sure we are heading towards an election because those that want to represent us have not come out to let us know how they will handle these problems we are facing. We may still end up facing the same problems in the next dispensation because they are not addressing these issues,'' he said.
Also, Primate Ayodele cautioned the Independent National Electoral Commission (INEC) against getting intimidated regarding the issue of Bimodal Voter Registration System (BVAS), stating that INEC should stand its ground because the election is a serious one.
''My fear in the next election is that Nigeria will lose a prominent person among the governors, senators and rep members they will be voting for. If you know you are unhealthy, go and take care of yourself, election is not what you need.''