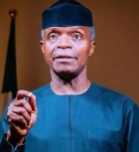 Politics
25 journalists to launch book on Osinbajo 
CITIZENS COMPASS – Come Friday, April 28, 2023, a book on Nigeria Vice President, Prof Yemi Osinbajo (PYO) will be launched virtually. 
Time is 4 p.m. prompt according to a statement signed by PYO COLECTIVE, Richard AKINNOLA and Sadiq Abdullateef, on Sunday, April 9, 2023
The book titled, " OSINBAJO STRIDES: Defining Moments of An Innovative Leader" is written by 25 journalists and writers across Nigeria. 
The launch event is organized by PYO Collective, a nonpartisan and multicultural group of Nigerians who are interested in good governance and economic development of the country. Its core values include ethics, professionalism, honesty & accountability and good governance.
The statement said there were altogether 25 writers who are Richard Akinnola, Azu Ishiekwene, Garba Mohammed, Etim Etim, Donu Kogbara, Sadiq Abdullateef, q1Fatima Mamman-Daura, James Akpandem, Mustapha Ogunsakin, Dayo Akintobi, Dr. Wale Adeduro, 
Columba Ogah, Haruna Abdullahi, Temilade Okesanjo, Arukaino Umukoro, Olaolu Beckley, Ore Ogunbiyi, 
Jude Zoho, Vitalis Obidiaghaa, Seun Bisuga, Seyi Gesinde, Faith Dafe-Joseph, Muritala Ayinla, Abimbola Olaniyan and Ibrahim Bature while Mr. Jahman Anikulapo was the Editorial Consultant for the work.
" The book is essentially a collection of essays written by the journalists, writers and other persons from different walks of life. It periscopes the Vice President's public service since he was Special Adviser to the Attorney-General of the Federation in1988 till date. 
" Foreword is written by His Excellency, General Abudulsalami Abubakar. 
A blurb would be made available ahead of the public presentation.
" Proceeds from the sales of the book will go to charity organizations." 
" PYO Collective promotes unity and prosperity of our dear country. Our membership is drawn from 
across the country and includes writers of the essays in the book."