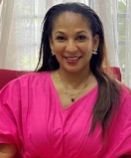 News
Adebola hosts Eziakonwa, Durotoye, Omogiafo at African Power Girls brunch    
CITIZENS COMPASS – Chairman of AW Networks and author of African Power Girls, Adebola Wiliams recently hosted Assistant Secretary General of the United Nations, Ahunna Eziakonwa; Lagos Commissioner Designate, Solape Hammond; President of Transcorp PLC., Owen Omogiafo; beauty entrepreneur and lawyer, Tara Fela-Durotoye, and other notable personalities to an African Power Girls event tagged 'Power Table for Twelve Power Brunch'. 
 The event was organised to bring together women of influence with a view to discussing and charting a course for the advancement of women in all sectors and promoting investment in girls empowerment and education. 
Ahunna Eziakonwa, who was a special guest at the exclusive brunch, spoke about the importance of women in politics, and why representation matters from boardroom to the parliament. She presented data evidence on how women inclusion at the highest levels of engagement accelerates growth in nations, and encouraged everyone to do all they can to commit to empowering girls and women within their spheres of influence. 
 According to Adebola Williams: "The media has a massive role to play in changing societal stereotypes and narratives, and to show young girls that they are capable and free to be the best version of themselves.  
"Women in key leadership positions must be projected by the media as the norm so that young girls in Africa and the world can see role models that not only look like them but also know and understand the challenges that they go through daily," he added. 
On her part, Solape Hammond raised the key issue of collaboration for accelerated development: "My raison d'être for going into public service was collaboration," she said. "I had been in the private sector all my life until the last three and half years. It's really about, 'How do we bring everybody to the table?' 'How do we get big companies to come together to create something truly different?'" 
Tara Fela-Durotoye spoke about the family unit, and the values the society must instill in our wards so that they can grow up to be responsible citizens, whilst Ngozi Edozien, Managing Partner at Invivo, reflected on her journey sitting on boards of the world's largest company and the stark difference with corporate Nigeria as regards creating room for women. 
Other notable personalities at the brunch event are Co-founder and Partner at AACE Foods, Ndidi Nwuneli; actress and advocate, Kate Henshaw; CNN Digital Chief for Africa, Stephanie Busari; Executive Director of African Philanthropy Forum, Mosun Layode; Director at Promasidor Debola Williams; Director of Sustainability, Nigerian Bottling Company, Soromidayo George; Head Corporate Social Responsibility at Airtel, Chioma Okolie; and CEO of Roots2Market and Aspen Fellow, Nwando Ajene.