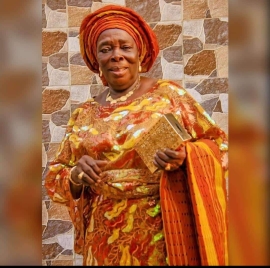 By Abimbola Joseph
CITIZENS COMPASS – Ikorodu Local Government Chairman, Hon. Wasiu Adesina has described as shocking the sudden death of Alhaja Taofikat Allynson, the Iyaloja of Ikorodu division.
He expressed this on Tuesday, in a statement. 
Citizenscompass reports that Allynson died on Monday at a private hospital of protracted illness and has been buried according to Muslim rites.
In a condolence message to his family and market men and women, Adesina described Alhaja Allynson, as a woman of resources and industrious, who deployed her wealth of experience in ensuring that markets in Ikorodu are maintained and well monitored.
He said the late market leader who is also the Yeye Oba of Ibeshe Land was a mother and a role model for hard work, noting that she contributed in no small measure her own quota to the economic and political development of Ikorodu.
"Alhaja was a hard working, vibrant, very industrious and role model to other women in the business, an advocate of equity and justice.
"Her death is a huge loss to her family and market women and men and her legacies and management style can not be forgotten in a hurry.
"Residents in Ikorodu will all miss this quintessential and courageous woman.
"She is always punctual at any of our functions at council in support of our many programmes,  I pray that God grant her eternal rest. Adesina said.