Community
Again, Glo throws weight behind Ojude Oba Festival
CITIZENS COMPASS – IN line with its commitment to promote Nigeria's culture, telecommunications giant, Globacom, has announced its sponsorship of the 2023 edition of Ojude Oba Festival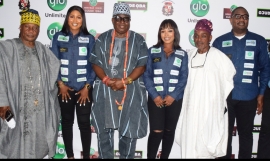 .
The event which is one of Nigeria's biggest cultural events is set to hold two days after the Id-El-Kabir festival in Ijebu Ode, Ogun State.
According to the company, its sponsorship of Ojude Oba is to also promote the different nationalities and the cultures, traditions, and beliefs that bind Nigerians as one geographical entity. It added that legendary festivals such as Ojude Oba have the potential to boost the country's tourism industry.
In a speech read by its representative, Mr. Sola Mogaji, at a pre-event press conference held within the Awujale Palace ground, Globacom stated that the theme of this year's edition of the festival: Ojude Oba: A Lesson in religious harmony, underscored the place of religion and unity in the affairs of the nation. 
"Our collaboration with the Ojude Oba Planning Committee is geared towards celebrating the unique tradition of the Ijebu people while fostering the cause of tourism which Ojude Oba has promoted for more than 100 years. This festival which has gained global recognition attracts tourists from other parts of Nigeria and the diaspora", Globacom said.
The Coordinator, the 2023 Ojude Oba Planning Committee, Dr. Fassy Adetokunbo Yusuff, extolled Globacom for its consistency over the years and for being a first-class partner of the age-old event.
He noted that the festival is not merely a parade of opulence by sons and daughters of Ijebuland as well as families of warlords who defended their heritage in wars of the past, but also a time for indigenes to reunite and express warmth towards friends, families, and relations from far and near. "It is also a time to review the growth achieved in the past and an avenue to plan towards more infrastructural and industrial development of our land of birth", Chief Yusuff said.
The company has been the main sponsor of the cultural event since 2006.