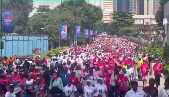 CITIZENS COMPASS– HUNDREDS of women in Lagos drawn from the ruling All Progressives Congress (APC), on Monday, staged a solidarity walk to support the party's presidential candidate, Bola Tinubu, and the second term bid of Lagos State Governor, Babajide Sanwo-Olu.
The walk which started in the morning cut across the General Hospital, Lagos, Osborne and some other areas in Lagos.
The walk witnessed the presence of Lagos APC women leader Hon Jumoke Okoya-Thomas, former deputy governors of Lagos, Adejoke Oorelope- Adefulire and Oluranti Adebule among others.
Addressing the women, Thomas said the walk was organised to garner support for the party's presidential candidate, Bola Tinubu, the Lagos state governor, Babajide Sanwo-Olu, and other candidates of the party in the 2023 general election.
The rally had a massive representation of women members, party chieftains, associations of market men and women from the 20 Local Government Areas, and 37 LCDAs across the state.
Governor Babajide Sanwo-Olu, in his address, said women have shown that they own the votes.
He commended the organizers of the walk for a successful outing, saying, "Lagos APC is a party of choice. Take the message home APC in Lagos state is a party of choice.
"This is just a sample. You have shown that women have the votes. You have shown that you run the show. Our presidential candidate, Senator Bola Tinubu, and his vice, Senator Kashim Shettima, are very appreciative of what you have done today.
"I want you all to spread the message that APC is the party of choice. I, therefore, congratulate the women leader, Hon Jumoke Okoya-Thomas for putting this up. It is indeed a show of strength by our women and I am certain, we shall surely emerge victorious.