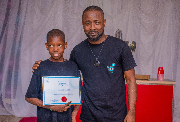 Education
General News
AYITI 3.0 trains vulnerable children in computer programming, information technology
CITIZENS COMPASS– AS social vices are on the increase in the society, Access to Youth Information Technology (AYIITI 3.0) has come up with plans to curb the menace by training vulnerable children on computer programming and information technology.
The third in the series was held in Bariga Local Government in Lagos State, over the weekend, where 30 students graduated as computer programmers in Python, Javascript, PHP & MySQL, Github, Shell Scrpting, HTML & CSS, Project Management, Communication Skill, Design with Figma, Confidence building, games and Advocacy.
AYITI Founder, Akinyele Olubodun while relating what influenced his vision, he said his experiences in the slum while growing up gave birth to the vision.
He said he grew up in a place where criminality like armed robbery, theft, rape, hooliganism and touting were rampant.
Olubodun who grew up in the slums of Bariga said this has informed his decision to fix the society by capturing and training vulnerable children who are easily enticed by criminality. He said, ''programming put me out of poverty and got me my best memories and opportunities to be who I want to be.
'I want to being out other children from extreme poverty, teach and mentor them on how to be ethical computer programmers for social change. Together, we will change the narratives of Nigeria and Africa through computer programing and technology. I believe my journey to freedom can be replicated for other children living in marginalized community by lowering the barrier to attaining programming knowledge.
''This will help us to reduce crime rate in children and involvement in social vices while also contributing to the social good. I want to create a community of young social visionaries equip with the power of technology to change their world and the society.
Among the graduating students was a disable, 17 years old Ifeoluwa Emmanuel who emerged as Code-General of her set and presented a laptop and crafted medal by the founder.
The children are now certified web designers at their younger ages of between eight and 18 and they acquired the skill free of charge through AYITI 3.0. in Lagos.
The Founder is a graduate of University of Lagos said he has trained over 120 vulnerable children who are positively impacting lives in the society.
Caption: Olubodun with Ife