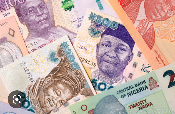 CITIZENS COMPASS– Some banks in Lagos on Saturday, opened their branches to customers to deposit the old N500 and N1,000 notes.
Among the banks were First Bank of Nigeria, Access Bank and Eco Bank, which witnessed large turn out of customers across various branches.
However, many Automated Teller Machines (ATM) stands scarcely dispensed the redesigned Naira notes.
Across the streets, 90 per cent of Point of Sales (PoS) operators did not have cash to dispense to customers as many customers were seen roaming the streets and searching for cash especially in Lagos suburb.
On Friday, February 17, 2023, some banks had issued circular that customers should bring their old N500 and N1,000 notes for deposits and made good their promises by collecting the notes maximum of N500, 000.
At some of the branches monitored by our Correspondent, some customers claimed they had filled the mandatory form on CBN portal and generated code to be taken along the old notes to the banks.
Places visited were Kosofe and Iyana- School in Ketu, Marina and CMS which witnessed large turn out of customers.
One of the bank customers, Gabriel Adelakun ,said though the old Naira notes he deposited were not replaced with cash but he was happy that he was able to lodge the amount.
I was happy to lodge the money as this is better than running at a loss."
Meanwhile, some traders across some markets in Lagos, have been doing brisk businesses by charging customers who were making purchases with old Naira notes.
Different prices for different Naira notes
Our Correspondent who was at Sabo market in Ikorodu, said a product which costs N1,200 was sold to customers who made purchases with the redesigned Naira notes at normal rate while same product was sold at N1,300 to customers making transfer and N1,500 to customers with the old Naira Banks collect old N500, N1,000 notes
Similarlly, some Point of Sales (PoS) operators said they were hit by scarcity of Naira notes and this made them to device the means of survival by fixing varying charges on old and redesigned notes.
For instance, customers deposit of redesigned notes attracts lesser charges compared with that of old notes.
Citizens Compass reports that CBN denied reports authorizing commercial banks to receive old N500 and N1,000 naira notes recently declared as no longer valid as legal tender.
Reports had emerged on Friday afternoon to the effect that commercial banks in the country should receive the old N500 and N1,000 bank notes to a maximum of N500,000.00 but this was debunked by the apex bank.
Despite CBN's order, some commercial banks like First Bank Nigeria and Ecobank had announced that their branches would open on Saturday to receive the old notes.
On Friday February 16, 2023, First Bank of Nigeria issued a public notice which reads: "Dear Valued Customer, this is to inform you that our branches shall receive old N500 and N1000 notes of up to a maximum of N500,000.00 after registration on the CBN portal.
"Please note that deposits of more than N500,000.00(Five Hundred Thousand Naira) should be taken to the nearest CBN location.
"In addition, our branches will be open tomorrow, Saturday 18 February 2023 to receive old notes."
Recall that President Muhammadu Buhari announced that the old N500 and N1,000 seizes to be legal tender except the N200 which is to remain in circulation till April, 2023.
Director, Corporate Communications of CBN, Osita Nwanisobi, in a statement on Friday, February 17, 2023 corroborated President Buhari's, announcement on the old Naira notes.
The statement reads: "The attention of the Central Bank of Nigeria has been drawn to some fake and unauthorized messages quoting the CBN as having authorized the Banks to collect the old N500 and N1,000 Bank notes.
"For the avoidance of doubt, and in line with Mr. President's broadcast of February 16, 2023, the CBN has been directed to ONLY reissue and recirculate the old N200 banknotes and this is expected to circulate as legal tender for 60 days up to April 10, 2023.
"Members of the public should therefore disregard any message and/or information not formally released by the Central Bank of Nigeria on this subject."
Following the clarification from the CBN, customers of First Bank and Ecobank hoping to deposit the N500 and N1,000 notes besieged the banks on Saturday, February 18, 2023.
However, some residents of Lagos, said scarcity of cash has taken adverse effect on many businesses..