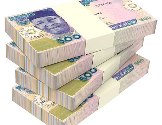 CITIZENS COMPASS-;THE Central Bank of Nigeria (CBN) has limits daily withdrawal at Automated Teller Machine (ATM) centres to N20,000.
Haruna B. Mustafa, Director Banking Supervision of the Bank disclosed this in its new currency policy effective January 9, 2023.
While the policy set the daily limit of Daily ATM withdrawal at N20,000, it also sets daily Point of Sales (POS) withdrawal at 20,000 while transactions above N20,000 must be done electronically.
CBN sets weekly withdrawal limit at N100,000 and the highest denomination to be dispensed by ATM is N200 notes.
It sets weekly maximum withdrawal at the Counter (Individual) at N100,000 while the weekky maximum withdrawal at the Counter (Corporate Organization) is N500,000.
Similarly, the bank set processing fees for withdrawal above limit as:
(a) Individual: 5% Processing Fee
(b) Corporate Organization: 10% Processing Fee
3rd Party Cheque above #50,000 not eligible for payment above the counter