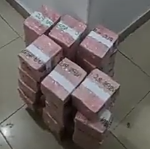 CITIZENS COMPASS– Officials of the Central Bank of Nigeria (CBN) have allegedly discovered N6 million new notes hoarded in Sterling Bank Plc, Ado Ekiti branch, Ekiti State.
According to the Apex bank, the news notes was hoarded for over two weeks.
In a trending video on social media, a man who identified himself as Oluwole Owoeye, a deputy director of CBN, while monitoring the distribution of the new naira notes in the state, was seen questioning the bank officials as to why they have not uploaded the funds into their Automated Teller Machines, (ATMs), despite having six of the machines in place.
The CBN director also announced a fine of N1 million for each day the fund was in the bank's custody.
He said, "I am currently at Sterling Bank, on Bank Road as part of the new naira notes monitoring compliance with the guidelines by CBN.
They have N6 million, which they collected from the bank for almost two weeks, they have not disbursed any. They said they are yet to configure their ATMs, I do not know why that and I have brought attention to the penalty clause of N1 million per day, because they have five ATMs here, they have no reason for keeping this money.
"The zonal service manager, Tunde Onipede promised that by 10:00am latest tomorrow (Monday), because I told him by latest 10:00 am I'll be here and I want to see the machine dispensing this money.
"What is the name again? Olumide Owolabi (Service Manager, Ado) & Motunrayo Babayele. My name is Oluwole Owoeye and I am a deputy director of CBN."
It will be recalled that some politicians have accused the governor of the CBN, Godwin Emefiele, of trying to sabotage the circulation of the new notes for political reasons, but the CBN, in turn accused commercial banks of sabotaging its efforts to make the new naira notes available to customers.
CBN Governor, Godwin Emefiele had said banks are to be blamed for the scarcity of new naira notes.
He said some of them have not complied with a directive to only load the new notes on Automatic Teller Machines (ATMs).
Emefiele said rather, the banks have been handing out bundles to individuals who spray them at parties.
Many Nigerians have been subjected to extricating pains in their bid to access the new Naira notes at Automated Teller Machines (ATM) stands and Point of Sales (PoS) terminals.
Some banks have stopped issuing the old notes, which will cease to be legal tender on February 10, but the new notes have been scarce.
Banks have stopped issuing the old notes, which will cease to be legal tender on February 10, but the new notes have been scarce.
Emefiele, who clarified that old notes can still be deposited after the extended deadline, said anti-graft agencies have been sent after erring banks and officials.
The CBN governor spoke when he appeared before the House of Representatives Adhoc Committee on the New Naira Redesign.