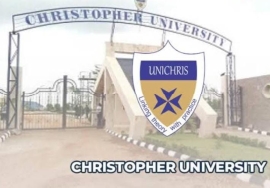 Education
Christopher University, others hold international conference
CITIZENS COMPASS —Christopher University, Social and Management Scientists Forum and MSME Business Solutions will, in collaboration, organise an international conference between November 21 and 24th November, 2023. 
Venue is Chinua Achebe Auditorium, Christopher University, Mowe, Ogun State, Nigeria.
The Conference will focus on the numerous social and management sciences challenges bedevilling Africa as a whole. 
According to the Chairman, Conference Planning Committee, Dr Benneth Eze,  said this year's edition is titled: "Governance, Leadership and the Management of a Fragile State"
He said the conference will focus on how effective and efficient leadership, governance and management can be employed in addressing the plethora of challenges confronting most African countries and developing nations in other continents. 
The Chairman said researchers will present their research outputs in the following sub-theme