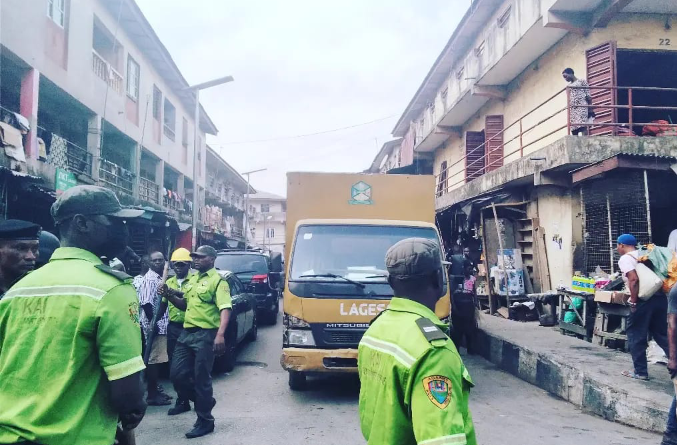 General News
CLEANER LAGOS: Cart pushers, hawkers arrested over environmental offences
AS PART of efforts to rid Lagos State of all environmental nuisances and achieve the mandate of a Cleaner Lagos, Lagos Environmental Sanitation Corps (LAGESC) has arrested over 89 offenders for hawking, cart pushing and street trading on the Lekki-Epe axis of the State in continous operations along the axis.
The Corps Marshal of the Lagos Environmental Sanitation Corps (LAGESC), CP Gbemisola Akinpelu (rtd) made this disclosure at the Agency's Command Headquarters, Bolade-Oshodi.
According to her, "we've been getting reports about the nefarious activities of cart pushers removing manholes for sale, hawkers who disguise to rob motorists at night and street traders who disrupt free flow of traffic with the Agency swinging into action to arrest these people for prosecution".
Akinpelu bemoaned the activities of street traders, hawkers and cart-pushers stating that their activities are in contravention of the State's Environmental laws 2017 noting that the negative activities of cart-pushers  vandalise road infrastructure by removing manholes on State's roads for sale and street traders who pose as security threats to Lagosians thereby making our roads unsafe.
Stressing further, she revealed that the defaulters apprehended for various environmental infractions were awarded fines, community service and imprisonment by the courts.
On the seizures made, Akinpelu revealed that all perishable items seized from the operations are donated on a daily basis to motherless babies homes' while the non-perishables are stored safely till a court order is secured for a public auction of which the proceeds are paid into government coffers.
She noted that the operation is a continuous exercise to sanitise the Lekki-Epe axis of street traders, hawkers and cart pushers, as it will be extended to all the nooks and crannies of the State in a bid to rid every part of the State of any form of environmental infractions and security threats alike.
The Corps Marshal however advised street traders, hawkers and cart pushers to desist from operating in Lagos as their activities contravene the State Environmental laws, warning that any defaulter will be made to face the law if apprehended.