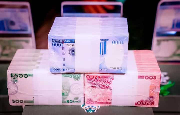 Politics
Council of State wants CBN to print more currencies
CITIZENS COMPASS- THE Central Bank of Nigeria (CBN), was on Friday, advised to print more redesigned Naira notes and release them into circulation.
The Council of State gave the advice during a meeting presided over by
President Muhammadu Buhari.
The Council urged Mr President to direct the bank to print more redesigned naira notes or allow the new and old banknotes to circulate concurrently to ease the tension caused by the scarcity of cash.
Briefing State House Correspondents after the Council meeting chaired by the President, the Attorney General of the Federation, Abubakar Malami, the Council said this is to ensure adequate supply of the naira in the system for proper implementation of the policy.
Governor Darius Ishaku of Taraba State, Governor Babajide Sanwo-Olu of Lagos State were among the attendees.
Governor Ishaku stated that it proffered a number of suggestions to the President, particularly on the currency swap challenge which dominated discussions, following a debriefing from the CBN Governor Godwin Emefiele, and expressed the hope Buhari will make a decision soon.
The Council threw its weight behind the new naira note policy but with a caveat that the Central Bank of Nigeria makes the new and old notes coexists.
Abubakar Malami while speaking on the outcome of the meeting, stated that it allowed for the accommodation of opinions from all the stakeholders, including former Nigerian leaders.
He said, " The two major resolutions that were driven arising from the deliberation of are; that we are on course as far as election is concerned, and we are happy with the level of preparation by INEC and the institutions.
"Relating to the naira redesign policy, the policy stands but then the council agreed that there is a need for aggressive action on the part of the CBN as it relates to the implementation of the policy by way of ensuring adequate provision being made with particular regard to the supply of the Naira in the system."
Ishaku said: "The CBN was advised to make money available in quantum. The old money can also be recirculated to ease the suffering of the poorest of the poor."
Sanwo-Olu, on his part, asked Mahmood Yakubu, chairman of the Independent National Electoral Commission (INEC), and Inspector General of Police (IGP), to brief the council on the state of preparedness for the 2023 general elections and assured that they were fully prepared.
Malami said: "We are on course as far as election preparedness is concerned."
President Mohammadu Buhari presides over Council of State meetings summoned to address the crises thrown up by the recent currency swap, amongst others.
The meeting was attended by Yakubu Gowon and Abdulsalami Abubakar, former Military heads of state, as well as former President Goodluck Jonathan.
Others include Ahmad Lawan, senate president and Femi Gbajabiamila, speaker of the House of Representatives
Former President Olusegun Obasanjo and some of the Governors also attended the meeting virtually.