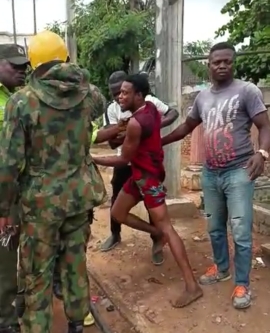 Community
Court remands dispatch riders over assault on KAI 
... Military officers on the run
CITIZENS COMPASS – TWO dispatch riders have been remanded at the Badagry Correctional Centre for assaulting operatives of Lagos Environmental Sanitation Corps popularly known as KAI.
However, two officers with the Nigeria Airforce who joined the dispatch riders to assault the KAI officer are currently on the run.
KAI Corps Marshal, CP Gbemisola Akinpelu (retd) disclosed this in a statement on Thursday, May 25, 2023. 
According to the statement signed by Ajayi Lukman, Head, Public Affairs Unit, the Corps Marshal bemoaned the frequent attacks meted out by operatives of military formations and uninformed citizens on its operatives while on lawful enforcement duties in the State, thereby obstructing the course of justice.
She said the KAI officers were on enforcement duty against street trading and hawking when assaulted. 
According to her, "Our Special Squad had been on an enforcement operation to apprehend street hawkers on Mobolaji Bank-Anthony Way in the Ikeja area of the State when operatives of the Nigerian Airforce in conjunction with dispatch riders both in transit, assaulted and obstructed our officers from effecting the lawful arrest of a street hawker displaying bottled water and biscuits for sale in traffic" 
The Corps Marshal further highlighted that the incident which was filmed by the operatives could not identify the law-breaking military officers who fled the scene but the dispatch riders, Adeyemi Sunday, 35, Udoka Onyebuke, 46 and street hawker, Chukwuemeka Ukpai, 22 were apprehended and subsequently arraigned before the Lagos State Special Offences (Mobile Court) in Bolade-Oshodi on counts of assault, battery and obstructions of justice. 
She further revealed that the hawker was fined to the tune of N20,000 by the Court while the other two dispatch riders were ordered to be remanded at the Badagry Correctional Centre, Kirikiri until the 15th of June, 2023. 
While avowing that incidents of assault and obstruction of operatives on lawful duty would not be tolerated by the State, Akinpelu stated that any information on the fleeing officers will be appreciated for appropriate in-house disciplinary measures by the military authorities. She urged the Nigerian Airforce authorities to sensitise operatives against interference in lawful enforcement duties of KAI officers.