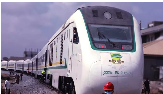 CITIZENS COMPASS– THE Edo State Police Command says it has charged eight suspects to court following the abduction of over 20 passengers on January 7, 2023, at Igueben train station.
Recall that the passengers were attacked by gunmen before their abduction.
The police on Wednesday said two village chiefs and five others were arrested in connection with the crime, while revealing that all the victims had been rescued.
In a court document exclusively obtained by our correspondent, the police charged the suspects; Ibadin Hamilton, Ighoko Odion, Okojie Ewa, Okie Patrick, Friday Ighedujiemu, Halilu Umaru, Aminu Ibrahim, and Isah Aliyu for criminal conspiracy and kidnapping.
The charge sheet dated January 17, 2023, was filed by the Legal Section State Criminal Investigation Department, Police Headquarters, Benin City.
The document revealed that Odion, 62, Ewa, 58, Patrick, 42, Ighedujiemu, 51, Hamilton, 59, Umaru, 28, Ibrahim, 25, and Aliyu, 25, all male, conspired to kidnap the victims with the expectation of getting N20million from their relatives as ransom for their freedom.
Count one reads, "That you Ighoko Odion, Okojie Ewa, Okie Patrick, Friday Ighedujiemu, Ibadin Hamilton, Halilu Umaru, Aminu Ibrahim, Isah Aliyu, and others now at large, on or about the 16th day of January, 2023 at about 12:00 hours at the Nigerian Rail Way Station, Igueben, Edo State, in the Benn Judicial Division, did conspire amongst yourselves to commit felony to wit: Kidnapping and thereby committed an offence contrary to Section 5 and punishable under Section 2 (1) (2) of the Kidnapping Prohibition (Amendment) Law of Edo State, 2013."
Count two reads, "That you Ighoko Odion, Okojie Ewa, Okie Patrick, Friday Ighedujiemu, Ibadin Hamilton, Halilu Umaru, Aminu Ibrahim, Isah Aliyu, and others now at large, on or about the 16th day of January, 2023 at about 12:00 hours at the Nigerian Rail Way Station, Igueben, Edo State, in the Benn Judicial Division, while armed with guns and other dangerous weapon, did attack and kidnapped passengers inside the train to an unknown destination till now with intent to receive ransom payment of N20,000,000.00 before release from your captivity and thereby committed an offence punishable under Section 2 (1), (2) of the kidnapping Prohibition (Amendhent) Law of Edo State, 2013."