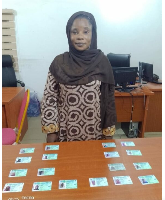 CITIZENS COMPASS– OPERATIVES of the Economic and Financial Crimes Commission (EFCC), has intercepted a woman identified as Maryam Mamman Alhaji, with 18 Permanent Voter's Cards, PVCs, in her possession, in Badarwa area, Kaduna state on Saturday.
The anti-graft agency revealed this via its Twitter page on Saturday, adding that the woman was a member of a leading political party.
It was learnt that the woman, said to be a member of the support group of one of the leading political parties, also had in her possession a 17-page list containing names of eligible voters, their bank details and phone numbers as accredited under Badarwa/Malali Ward 01 and 08, Kaduna North Local Government Area of the State.
She was arrested by the EFCC undercover operatives who pretended and told her they had voter cards and were desperate to sell them.
At press time, she was being grilled by operatives of the Kaduna Zonal Command of the EFCC, to unravel other members of her syndicate whom she claimed are also collecting voter cards and paying monies through PoS or direct bank transfers.