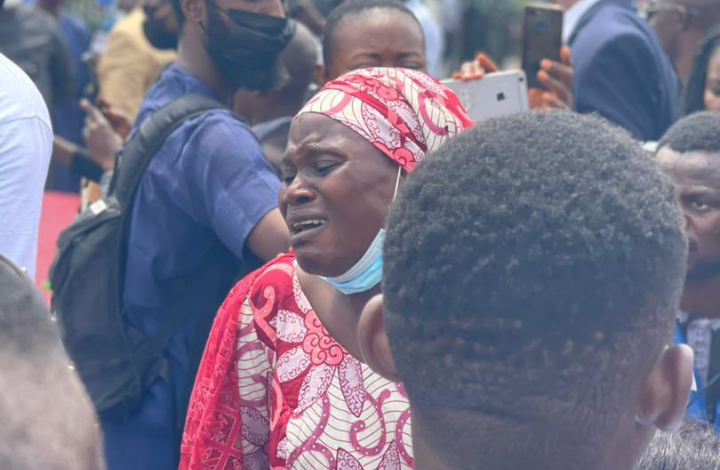 By Ade Oye
Parents of the kidnapped Kaduna students on Tuesday, stormed the National Assembly complex in Federal Capital Territory FCT, Abuja, protesting the kidnap of the students.
They called on the federal government to look into the plight of the remaining 29 students abducted from the Federal College of Forestry Mechanisation and the 17 undergraduates abducted from the Greenfield University .
At the protests ground were the Publisher, Sahara Reporters, Omoyele Sowore, rights' activists, Deji Adeyanju and the Students Union Government (SUG).
The protesters gathered at the Unity Fountain at about 9:15 am and thereafter marched through Shehu Shagari way to the National Assembly complex protesting what they described as the negligence of the state and Federal Government in securing the release of the children.
The main entrance of the National Assembly was, however, manned by security agents who denied the protesters entrance.
While chanting solidarity songs and displaying placards to express their grievances, some of the placards read: 'Safe education is our right', '#BringBackOurStudents', 'Free Afaka 29, Free Greenfield 17!' among others.
Speaking with journalists one of the parents, Mr. Odibe, said: "We are here today because we feel abandoned and worried that after 55 days of the abduction of our children, the government has not done enough to rescue them.
"As of today, there is no inkling of hope from any government quarters, suggesting any time for the release of our children.
"My only son is the only one I have. I don't have a husband, I'm a widow," the mother of one of the abducted students said in tears,"
In his comments, Sowore said, "Very sad day, we met and marched with parents, friends, students and community leaders of kidnapped students of the College of Forestry in Afaka, Kaduna state. Governor Nasir El-Rufai who once confessed to paying off Fulani bandits has suddenly abandoned these parents to their fate,"
On his part, Adeyanju expressed worries about the unusual silence of the government over the spare of the students.