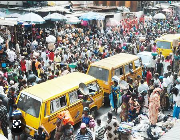 CITIZENS COMPASS– BARING few minutes delay, the Oloja of Lagos Chieftaincy Family has raised alarm over plans by some people to cause crisis in the family.
The Olojas have descendants withing Lagos Island especially the Ereko, Idumota and Balogun area of Lagos Island.
This is just as the family denied online reports that the Lagos State Government is making moves at resolving the crisis surrounding the Oloja of Lagos stool, a first class chieftaincy title in the class of Akarigbere chiefs of Lagos.
They claimed that there is no crisis in the family concerning who occupies the vacant stool and as such, the state government has no crisis to resolve.
In separate statements, jointly signed by the General Secretary, Prince Sikiru Adeoye Kosoko and Head of Family, Alhaja (Chief) Mutiat Ashabi Abimbola Alli-Balogun, the family distanced themselves from a press statement issued on behalf of the family on Wednesday, December 14, 2022, titled: 'Kosoko Chieftaincy Family Dispute Set To Be Resolved By State Government.'
"This is also to call the attention of the authorities and the general public to a letter circulating in the name of the Kosoko Royal Family/Oloja of Lagos Chieftaincy Family calling for ratification of the valid registered declaration, a move contrary to the position of the general family and without the consent of the head of the family.
"The judgment of the High and Appeal Courts being referred to in the
said statements does not in any simple language mention or talk about the registered declaration of 1983. The judgment of the Appeal Court directed the litigant to go back to the High Court by setting aside the High Court judgment against the litigant," the statement read.
They claimed that the judges in their judgment did not at any point make mention of the declaration because it was not the substance taken to the High Court and as such the Appeal Court cannot give what was not sought for.
"It is also on record that there is only one registered declaration regulating the process of ascending the stool of the Oloja of Lagos and there are no court cases of any sort against it till date.