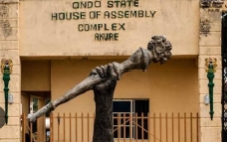 CITIZENS COMPASS – THE Ondo State House of Assembly has received a bundle of joy as its first female Speaker, Mrs Jumoke Akindele-A Julio, has delivered a baby.
It could not be ascertained if this was her first delivery but she was said to have delivered the baby at the age of 54.
The news of her newborn baby was broken on social media where friends and political associates were congratulating her .
A post on the Facebook page of one of her associates, Segun Odidi, wrote, "What God cannot do doesn't exist.
First Female Speaker of the Ondo State House of Assembly delivered a bouncing baby on Saturday.
" Her first fruit!! What a cheering news! i'm so happy for you big sis. Congratulations Rt. Hon Jumoke Akindele."
Akindele, a member of the Peoples Democratic Party, who was in the Assembly between 2011 and 2019,  became speaker in 2014 and was removed in 2017.
She represented the Okitipupa State Constituency 1 in the Assembly.