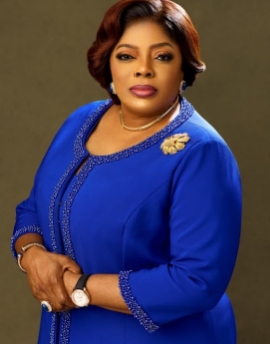 Business
Fidelity Bank: Strengthening the footprint of growth
… with impressive FY'22 financials
CITIZENS COMPASS – Fidelity Bank Plc has recorded an impressive growth across key top-to-bottom line figures during its Financial Year which ended on December 31, 2022.
This was contained in its audited financial statements (AFS) for the year. 
According to the full year 2022 scorecard presented by the bank, the financial results released to the investing public at the Nigeria Exchange Limited (NGX) show its full year (FY) 2022 gross earnings printed higher at N337.050billion, representing 34.4percent increase against N250.776billion recorded in 2021.
The AFS revealed that Fidelity Bank's Net Interest Income (NII) rose by 60.94 per cent to N152.695billion from N94.879billion recorded in 2021. Its Profit Before Tax (PBT) was also higher at N53.677billion in 2022, up by 112.88percent from N25.215billion recorded in 2021, while the bank's profit after tax (PAT) for the year 2022 at N46.724billion was 102.2percent higher than N23.104billion profit it recorded in 2021.
Its earnings per share (EPS) basic and diluted increased to 161kobo in 2022 from 80kobo in 2021. Fidelity Bank's total asset in FY'2022 stood at N3.989trillion, up by 21.76percent from N3.276trillion in 2021.
In the review financial year 2022, the bank's Earning Assets make up a significant portion of the bank's total assets. For instance, as of December 31, 2022, Earning Assets were N2.64 trillion (2021: N2.22 trillion). The bank's net loan balance in 2022 stood at N2.116 trillion (2021: N1.66 trillion). This value represents 55 per cent (2021: 52 per cent) of the total assets as at the reporting date. Deposits from Fidelity Bank customers increased to N2.580 trillion in 2022 from N2.024trillion recorded in 2021.
Dividend         
                                                                  The bank's Board of Directors proposes a final dividend of 40kobo per share which in addition to the 10kobo per share as interim dividend amounts to 50kobo per Ordinary Share (2021: Dividend of 35kobo per Ordinary Share.
Stocks seen outperforming the market
Fidelity Bank shares have been on investment analysts stock picks. The share price at N5.3 had reached a 52-week high of N6.03 as against 52-week low of N2.87. The bank shares price has yielded about 21.8percent return this year, confirming analysts BUY rating as a value stock. 
Awards and recognitions
In recognition of its product innovation and sound corporate governance standards, the bank was recognised by several local and international award agencies.  These include: Bank of the Year 2021 by Leadership Newspaper, Best Banking or Insurance Website/Portal by the Nigeria Internet Registration Association (NiRA), Best SME Bank Nigeria 2022 by the Global Banking & Finance Awards, DBN Platinum and Service Ambassadors Awards, and Global Finance's World's Best Private Banks 2023 awards for Best Private Bank in Nigeria and Best Private Bank Digital Solutions for Clients in Africa.
This year 2023, Fidelity won the following awards: Banker of the Year 2022 at the 14th Leadership Annual Conference and Awards, Best Payment Solution Provider Nigeria 2023 in the 2023 Global Banking & Finance Awards, and Best Banking CEO Nigeria 2023 in the 2023 Global Banking & Finance Awards.