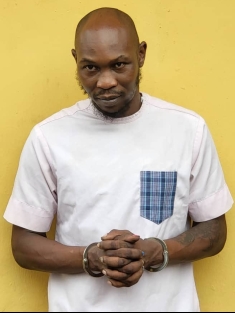 CITIZENS COMPASS – Afrobeat singer, Seun Kuti, on Tuesday, May 23, 2023, regained his freedom from police custody after meeting bail conditions.
Kuti has been detained by the police for allegedly assaulting a police officer on Third Mainland Bridge, Lagos State.
The video of the assault went viral on Saturday, May 12, 2023 and the Police went after the musician who later hired the Human Rights lawyer, Femi Falana (SAN) as his solicitor. 
In the viral video, the singer, son of late Afrobeat icon, Fela Kuti, was seen hitting an officer. However, in the short clip, the officer did not retaliate.
Seun voluntarily presented himself at the Lagos State Police Command Headquarters, Ikeja, on Monday, May 15, 2023, where he was handcuffed and moved to the Criminal Investigation Department, Panti for prosecution. 
A group known as #FreeSeunKuti campaign has expressed concern about what it described as the disproportionate response by the Nigerian Police and the efforts to unjustly target Seun Kuti.
The Group made this known on Friday, May 19, 2023, in a joint press statement.
Recall that Kuti's lawyers in a statement had earlier said that he would be released on bail as ordered by the Magistrate.
Seun's release on Tuesday night, was announced by the human rights activist, Omoyele Sowore on his Twitter handle, "Just to announce that @RealSeunKuti has been released from @PoliceNG detention in Lagos. Hasta la victoria siempre!," the Presidential candidate of the African Action Congress (AAC), Omoyele Sowore tweeted while accompanying it with a video of Seun rejoicing with his family.
Protesters had earlier on Tuesday, May 23, 2023, demanded the immediate release of Seun within 24 hours.
The protesters thronged the Chief Magistrate Court Yaba in Lagos, asking police to release Kuti from detention.
The protests were carried out under the auspices of the Youth Rights Campaign (YRC), AAC, Movement for African Emancipation (MAE), Pan-African Consciousness Renaissance (PACOR), Workers and Youth Solidarity Network (WYSN), Movement of the People (MOP) and allies.
They also displayed placards with inscriptions such as "#FreeSeunKutiCampaign," "Independent Judiciary: Is it really independent," End Police Brutality," amongst others.
Recall that the police said they discovered suspicious items during a search of the home of the Afrobeat musician in Lagos State.
Lagos police spokesman, Benjamin Hundeyin had disclosed this in a tweet while responding to criticism on how police are handling the musician's ongoing case of assault against a policeman.
"In the course of our investigation, we stumbled on certain suspicious things that needed to be proven/disproved beyond a reasonable doubt.
" We, therefore, applied for and duly got a search warrant from the court which we have executed. Investigation continues.
"No law restricts the police to investigate only the initial crime. World over, Police Departments stumble on other crimes while investigating an initial crime," Hundeyin responded.
"We are duty bound to investigate them in line with our mandate of detecting and investigating crimes."