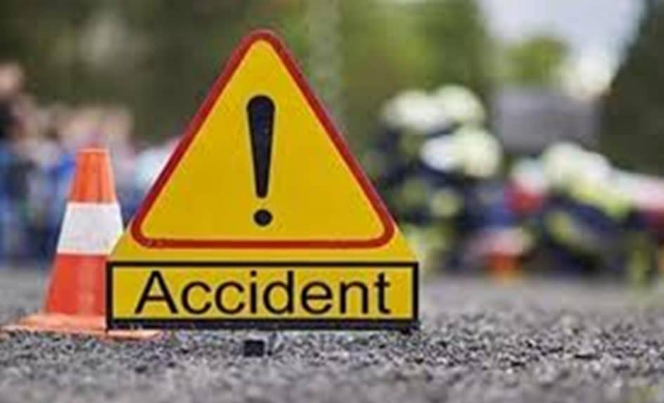 CITIZENS COMPASS- FOUR persons have reportedly died while three others were seriously injured, on Friday, in an accident which occured along the Abeokuta-Sagamu Expressway in Ogun  State.
Vehicles involved were a Toyota Sienna with number plate AAA 307 GN and a cement-laden Sino truck with number plate WDL 418 XA which were inbound Abeokuta.
It was learnt that the four occupants in the Toyota Sienna lost their lives on the spot while the three occupants of the Dangote truck were injured during a collision.
Babatunde Akinbiyi, spokesperson, Ogun State Traffic Compliance and Enforcement Corps (TRACE), confirmed the incident to journalists in Abeokuta.
He attributed the cause of the accident to excessive speeding on the part of the driver of the Toyota Sienna.
According to him, the Toyota Sienna which was inbound Abeokuta, rammed into the truck, belonging to Dangote Cement company from behind while at top speed.
He said, "We learnt that the Sienna car inbound Abeokuta, was driving behind the Dangote truck, when it ran into the truck from behind, due to excessive speed and the inability of the driver to ascertain the fact that a vehicle was in its front, coupled with the smoke emitting from the truck, which also had no rear light.
"All the four occupants in the Sienna vehicle lost their lives, with no injury experienced. The remaining three victims (who sustained injuries) were however in the Dangote truck."
He disclosed that the corpses of the victims had been deposited at Ogun State General Hospital Morgue, Ijaiye, Abeokuta, while the injured victims were taken to the Federal Medical Centre (FMC) for treatment.
Akinbiyi while commiserating with the families of the dead victims, warned drivers of articulated vehicles to always make safety their watchword by servicing their vehicles as and when due and ensuring their lightening is working well.
He also charged drivers to avoid excessive speeding and night travel "in view of its attendant consequences".