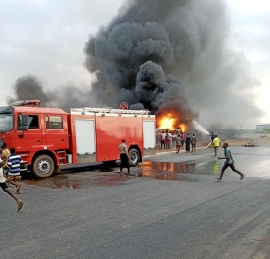 CITIZENS COMPASS  Four persons have escaped been roasted to death when a petrol-laden tanker exploded after collision with a Sport Utilitu Vehicle (SUV), on the Ogun State axis of Lagos – Ibadan Expressway.
The incident occurred on Sunday, April 2, 2023, on the Long Bridge axis of the Expressway. at about 4.30 pm.
The victims were two adults and two females being passengers in the vehicles.
However, the accident was well attended to by emergency responders who forestall Ed any secondary incident.
On ground were the Nigeria Police Force, Federal Road Safety Corps (FRSC) , Ogun State Traffic Compliance and Enforcement AGENCY (TRACE), Federal and Ogun State Fire and Safety Services.
Commuters and road users were stranded for hours as driving against traffic was the other of the day.
An eyewitness who identified himself simply as Omogbolan said,
The driver of the SUV was on top speed as he was trying to overtake some vehicles. Immediately he successfully drove past about three vehicles, he tried to swerve back to the left but the tanker was already on the lane and that was how the vehicle ran into it."
No casualty was recorded in the accident.
The tanker driver who gave his name only as Hamid accused the SUV driver of being responsible for the accident.
He said, "I was on the fast lane close to the kerb when the driver was trying to overtake. After overtaking some vehicles, he ran into my tyre. It was in the process that I lost control and thereafter climbed the kerb. That was how the tanker fell on its side and went up in flames.
"He has told the police that he had a tyre burst and that was how he collided with me. I am waiting for the tanker's owner."
The Ogun State Sector Commander, FRSC, Ahmed Umar, said the accident was caused by a tyre burst.
He said,
The SUV had a tyre burst, lost control and swerved towards the tanker which led to the incident. The two adults and two children who were in the vehicle were rescued by our officials who were patrolling the corridor."
The unit commandant of TRACE covering the OPIC and MFM axis, Ojo Oloye, said the fire could not be put out immediately due to the fuel still in the tanker.
"Firemen have tried to put out the fire. They ran out of water and have gone to replenish. Our men are also trying to control the traffic alongside the police and FRSC officials," he sa