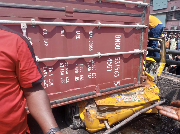 CITIZENS COMPASS- THE Federal Road Safety Corps (FRSC), Lagos Sector Command, in collaboration with truck owners, vehicle inspection service and traffic managers a joint safety campaign to ensure safety on the road.
The campaign which took place on Monday, February 6, 2023 was geared towards forestalling frequent falling of containers on the roads which has caused loss of lives and properties.
The partnership was with Amalgamation of Container Truck Owners Association of Nigeria, Nigeria Port Authority, Vehicle Inspection Service and Lagos State Traffic Management Agency (LASTMA).
Recall the state had recorded many road crashes involving articulated trucks has claimed many lives in the state.
The recent incidence of Sunday 30th January, 2023 of a crash involving a containerized truck which fell on a mini bus leading to the death of Nine persons.
Worried by the incident, the Sector Commander FRSC Lagos Sector Commander Corps Commander Olusegun Ogungbemide was represented at the sensitization program by DCC Lucas Oguntade, DCC Operations held at different bonded terminals parks like NPS Park, Ijora Olopa, Jarvara AMOG Bonded terminal, Ijora and the Nigeria Port Authority Lilypond Transit Truck Park, Apapa.
The Deputy Corps Commander Operations DCC Lucas Oguntade spoke extensively on Truck owners and drivers to ensure their truck meet the minimum safety standards at all times as below:
Trucks
* Functional headlamp, brake light, horn, side and inner mirrors.
* Functional twist lock
*Need for continuous vehicle
maintenance.
Drivers
* Ensuring the drivers have driver's licence and genuine vehicle documents.
* Shun Sperding, overloading,
* Avoid drunk driving, driving under influence of alcohol and drugs.
*To always ensure adequate rest.
The Chairman of ACTOAN, Comrade Rilwan Bello in his address appreciated all the invited traffic management agencies. He said the safety campaign was organised to proffer solutions towards curbing the recent cases of containerized trucks falling which has claimed lives of commuters within the State.
He appealed to the State Government to look into the menace of Area boys who usually attack truck drivers.
Other agencies present at the campaign were; General Manager, LASTMA, Mr Bolaji Oreagba represented by LASTMA Egbetola SA Zonal Head Apapa, rep of Director VIS Engr Akin-George Fashola rep by Engr WT Badmus, Chairman NPS Park Alhaji Rasaki Igbalaye, ACTOAN President Chief Remi Ogungbemi.
The agencies spoke on need for both truck owners and drivers to ensure their trucks are roadworthy, to avoid reckless driving that could lead to crashes or loss of lives.