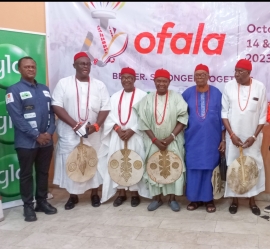 CITIZENS COMPASS —Telecommunications operator, Globacom, will again sponsor the 2023 edition of the biggest traditional festival in the South East, the Ofala Festival. It will be held in Onitsha, Anambra State, from October 14 to 15.
At a press conference held by the Ofala Festival Organising Committee at Ime Obi, Obi's Palace, Onitsha, on Thursday, August 31/2023, Globacom, which has been the major sponsor of the annual event since 2011, said its continued support for Ofala was because of its desire to promote the nation's huge cultural heritage and boost its capacity to create employment and wealth.
Ofala is a customary obligation performed annually by His Royal Majesty, Igwe Nnaemeka Achebe, the Obi of Onitsha. The two-day celebration starts with the Iru Ofala on October 14 to be followed by Azu Ofala the next day, October 15.
Globacom cited the 2020 data from the World Tourism Organization which listed Nigeria as 52nd on the list of top 55 tourism nations globally and the projection that the Travel and Tourism market in Nigeria will grow by 6.13 percent between 2023 and 2027, resulting in a market volume of nearly US$4 in 2027, as indications of the potentials of the sector. "If we continue to focus on promoting the best of our values for the world, nothing stops Nigeria from moving up to the Top 10 Tourism greats among the comity of nations within the next few years", the company stated.
"At Globacom, we are committed to supporting efforts aimed at preserving and promoting the rich cultural heritage of our country. This is why we have consistently supported prominent festivals such as Ofala and Ojude Oba over these years. We believe that these festivals, if well promoted, will help boost Nigeria's tourism industry as they will attract  tourists who will be willing to come around to witness these festivals. Their presence will be a booster for hotels, restaurants, tour guides, arts markets and several other sectors whose trade will be in demand. Hundreds of thousands of jobs will also be created along the line", it added.
Also speaking at the conference, the Chairman of the Strategic Marketing and Communication  Committee, Mr Nnaemeka Maduegbuna said that the Obi of Onitsha had approved the theme of this year's Ofala Festival which is "Better, Stronger and Together", signifying the place of cooperation and unity in attaining goals and objectives.
He said that adequate arrangements had been made by the organizing committee to ensure a remarkable event as well as the security and comfort of all the visitors.