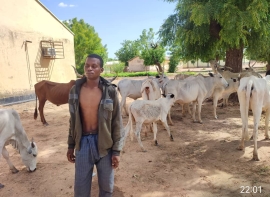 Crime
Gombe Police arrest suspected rapist, cattle rustler
… recover stolen cows.
CITIZENS COMPASS – Gombe State Police Command has arrested one Sale Kabo, a 30-year-old resident of Bandila village via Gulani LGA, Yobe State.
Spokesperson of the Command, ASP Mahid Mu'azu Abubakar disclosed this on Friday, June 9, 2023, in a statement. 
According to him, "On 6th June 2023, OneJauro Ahmadu, a 75 -year-old of Shuwari village via Bajoga Funakaye LGA, reported to the Bajoga Divisional Police Headquarters that his 21 cows valued at 7 million nairas had been stolen from his village at night. 
The Divisional Police Officer detailed his personnel to commence an investigation and they immediately swung into action. After conducting a thorough investigation, the above-named suspect was arrested in connection with the theft which he confessed. All the stolen cows and other relevant exhibits were recovered. 
The suspect is currently in police custody and will be charged in court as soon as the investigation is concluded." He said. 
Similarly, the spokesperson said a suspected rapist was arrested by the Command. 
" Babangida Isah 'm' age 20yrs of Tike quarters via Bajoga, Funakaye LGA.
*Similarly on the 6th of June 2023 at about 5 pm One Yahaya Isah male of Bajoga came to the Division and reported that the above-named suspect lured his 5-year-old daughter, whose name was withheld behind one Almajiri school and forcefully raped her.
"On receipt of the Complaint, the said suspect was arrested where he voluntarily confessed to the crime. 
Both the suspect and the victim were taken to the hospital for a medical examination, case will soon be charged to court for prosecution.
" The Commissioner of Police CP Oqua Etim while commending the effort of the detectives attached to the Bajoga Division who were involved in the investigation for their swift action and dedication to duty assures the public of the command's readiness in ensuring the safety and security of all citizens and urged them to report any suspicious activities and to cooperate with the Police in their efforts to maintain peace and order in the community.
"The CP also encouraged officers and men of the command to work tirelessly in ensuring that criminals are brought to justice and that the state remains safe and secure for all residents.
" For complaints/inquiries kindly reach us on emergency GSM number 08150567771 or PCB number 09165472923 or via our NPF rescue me Application, please.*