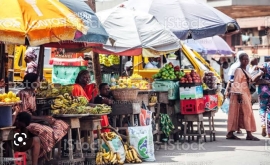 Community
Government deliberately locked our market to frustrate us – Igbo traders
CITIZENS COMPASS – Hundreds of traders were stranded inLagos State following the closure of Akorede Market in Ijesha, along the Oshodi-Apapa Expressway.
The market was closed on Monday, April 3, 2023.
The traders in a viral video were seen in groups alleging that they were deliberately locked out of the market by the state government, as a way of punishing or frustrating their businesses.
According to the viral video, the traders said they were stranded on Monday morning as they could not gain access to the market upon resumption for the day's business.
A male voice was heard in the video claiming upon enquiries and were told that the local government ordered the lock of the market for no reason.
He said, "These traders in Akorede Market at Ijesha Express are stranded outside the gate. On enquiry we were informed that the local government chairman ordered the locking of the market for no reason whatsoever.
"It is generally believed that this is the fallout of the just concluded election where some section of the country residing in Lagos State is being ordered to leave Lagos or be frustrated out.
"Please, we want the authorities concerned to find out from the local government chairman his reason for locking traders in this market out today, Monday March 3, 2023."
However, the Senior Special Assistant to Governor Babajide Sanwo-Olu on New Media, Jubril Gawat, while reacting to the video on Tuesday, April 4, 2023, said that the market was locked over the issue of indiscriminate refuse dumping along Oshodi-Apapa Expressway and abuse of the council staff by the traders.
He however said that the market had since been reopened after appeals.
"ISSUES: Using of cart pushers to pack refuse instead of LAWMA; dumping of refuse along Oshodi-Apapa Expressway; abuse on the Council Staffs, resisting them from performing their legitimate duties in the Market.
"Market reopened since yesterday morning (same day) after appeals."