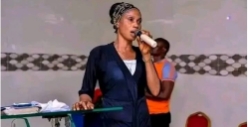 Crime
How female evangelist died during sex romp with General Overseer 
CITIZENS COMPASS – Abia State Police Command, Thursday, August 17, 2023, has narrated how a female evangelist died during a sex rump with the General Overseer of her church. 
The Command said the mother of five died in an Aba hotel, Abia State. 
Spokesperson of the Command, Chinaka Maureen disclosed this in a statement on Thursday, August 17, 2023. 
She said, "On the 13th of August, 2023, at approximately 09:30 AM, Mr Godwin Akpan (male), residing at Jubilee Guest House in Ovom village, Obingwa LGA, reported to the Isiala Ngwa Police Division that an incident had occurred.
"It was revealed that on the evening of the 12th of August, 2023, around 09:25 PM, a clergyman named Timothy Otu (male), associated with Agape Evangelical Ministry at Obikabia Junction in Obingwa LGA, had checked into the guest house along with a woman named Happiness Echieze (female) from Isialangwa LGA, Abia. Happiness Echieze was 43 years old.
"Further details provided by Mr. Akpan indicated that on the same date, around midnight, he entered the hotel room of the aforementioned clergyman and discovered the lifeless body of Happiness Echieze. She was found unclothed, and a white substance was emanating from her mouth and nose. Regrettably, the clergyman was absent from the scene.
"We hereby inform the public that immediate preliminary investigations have been launched into this matter. The deceased's body has been transported from the location and is currently at the SDA Mortuary in Aba, awaiting an autopsy examination.
"Additionally, we wish to convey that the suspected individual, in this case, has been apprehended and the case has been transferred to the State CID for discreet investigations."
It was gathered that the deceased evangelist had lodged in a hotel with the Bishop and General Overseer of the church located in Obikabia Junction Aba, Abia State.
Citizens Compass learnt that the incident occurred at about 10.55 pm of the fateful day as the Bishop, who had lodged in with the evangelist, looking terribly disturbed, surfaced at the hotel front desk, telling those on the night shift that he was going to buy food at that time of the night.
The hotel workers promptly reported the observation to the manager, who went to the room to know what happened, only to see the lifeless naked body of the evangelist on the hotel bed.
The manager of the hotel, who suspected foul play, was said to have reported the incident to the Eastern Ngwa Police Station in Obingwa Local Government Area at about 1 a. m on Sunday morning.