Crime
I am not guilty, says ASP who allegedly killed female lawyer in Lagos
CITIZENS COMPASS– DRAMBI Vandi,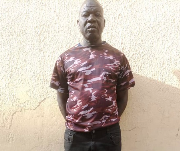 ,
the suspended Assistant Superintendent of Police (ASP), has pleaded not guilty to the murder of Raheem Bolanle, a female lawyer in Lagos State.
Vandi was arraigned on a one-count charge of murder before the Lagos state high court, Tafawa Balewa Square (TBS) annex, on Monday, January 16, 2023.
After the charge sheet was read, Vandi pleaded not guilty to the murder charge.
Bolanle Raheem was allegedly shot dead by Vandi in the Ajah area of Lagos on Christmas Day.
She was returning home from an outing with her family on Christmas Day when she was shot with her husband and relatives seated with her allegedly by the ASP who had mounted a blockade along her route.
Raheem's death generated widespread criticism from many persons and groups in the country, as they condemned what they described as extrajudicial killing, linking the incident to be one of such reasons for the nationwide #EndSARS protest of 2020.
Vandi who was suspended following internal police investigations over the murder of Bolanle Raheem appeared before Chief Magistrate C.A Adedayo on December 30, 2022, a day after the Police Service Commission approved his suspension.
He however pleaded not guilty during his arraignment on Monday.