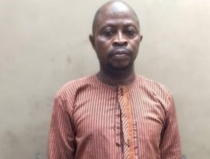 Crime
I got human head, hands from Islamic cleric —Suspected ritualist 
… Says things are hard
CITIZENS COMPASS — A 45-year-old suspected ritualist, Hassan Kolawole, has said that he was introduced to the business by an Islamic cletic in Ibadan, Oyo State. 
Hassan was caught red-handed with a fresh human head in Ibadan and was instantly arrested by Oyo State Police Command. 
He was paraded alongside nine other suspects at the Command Headquarters, Eleyele, on Friday, by Oyo State Commissioner of Police. 
According to the Commissioner, the suspects were arrested for various crimes at different locations within the state.
In his confessional statement, the suspected ritualist said he obtained the fresh q found in his possession from a Muslim cleric.
Kolawole said, "I have one wife and two children and things are very hard for me in taking good care of them. I met one Waheed, who is also an Islamic cleric at a Maolud. We discussed it and he told me that he knew how to do money rituals that would require the use of human parts.
"I told him that I don't know how to get the human parts and he promised to get it for me. He later brought the human parts to me at Amuloko where we met early in the morning. I kept it in my office where I often attended to people who needed spiritual assistance.
"The police came to search my office on the day Waheed gave me the fresh head and two hands but the person is now at large."
In a related development, nine suspects arrested from different locations within the state were also paraded for various crimes ranging from murder, kidnapping, cultism, and theft.