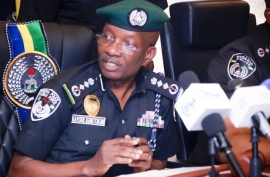 Security
IGP reveals what Police need to tackle insecurity in Nigeria 
CITIZENS COMPASS —THE Inspector-General of Police (IGP), Olukayode Egbetokun, says the the Nigerian Police Force (NPF) needs an additional 190,000 personnel to proffer solution to insecurity challenges in Nigerian.
The police boss said the country is currently lagging behind in the United Nations (UN) recommended ratio of police to citizens, noting that the UN ratio is one police personnel to 460 citizens, but Nigeria has a police-citizen ratio of 1-650.
Egbetokun submitted that insufficient manpower is hindering the agency's efforts to tackle crime, adding that if the country is not well-policed, the government's industrialization drive will become unrealistic.
Aside from this, the IGP remarked that the low manpower of the Nigerian police is also affecting its capacity to secure the country's critical infrastructure.
The IGP disclosed this during a paper presentation to the Senior Executive Course 45 at the National Institute for Policy and Strategic Studies, Kuru, Plateau State.
He explained, "Therefore, the NPF requires an additional 190,000 personnel to be at parity with the United Nations recommended ratio.
"Therefore, the inadequate manpower, which has resulted in a low police presence, could hinder the government's industrialization efforts.
Without sufficient police presence and response capabilities, industrial sites could become vulnerable to criminal activities and hamper economic progress."
It was learnt that the Security Studies Week is an avenue for security chiefs of the military, police, and other para-military outfits to deliver papers for the final research work of the senior executive course.