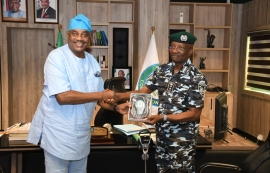 Security
IGP visits Arase, to set up joint committees to tackle frictions 
CITIZENS COMPASS – FOR the first time after he assumed office, the Acting Inspector General of Police, Dr. Olukayode Egbetokun has visited the Chairman, Police Service Commission, Dr. Solomon Arase, CFR. 
The visit was held on Thursday, August 3, 2023.
Both had an hour of fruitful discussion on several issues that will progress the two federal government Agencies in the area of advancing the security sub-sector of the nation, National Association of Online Security News Publishers, NAOSNP can report.
The meeting agreed to set up Joint Committees to look into areas of likely frictions in the operations of the two agencies.
The Meeting also agreed on the setting up of the  Recruitment Board that will include  all the strategic stakeholders in future recruitment exercises.
The Commission  and the Police also pledged that the welfare of Police Officers will be paramount henceforth.
The two leaders also decided to jointly work together to ensure that issues of discipline are handled expeditiously so that those found wanting are adequately punished and others not found wanting are freed to continue with their career progression. They also agreed to ensure that Police Promotions are prompt and based on merit, seniority and availability of vacancy. 
Dr. Arase said the Commission  will continue to collaborate with the acting Inspector General of Police to ensure efficiency and effectiveness of the Nigeria Police.