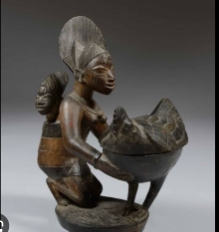 News
Islamic clerics threaten to evict traditional worshipper in Ilorin
CITIZENS COMPASS —A grouo of Islamic clerics in Ilorin, Kwara State, have threatened to evict a lady from tje town should she continue practising her religion. 
The move by the clerics was captured in a video which resurfaced online over the weekend. 
The video captured the Muslim clerics forcefully gaining access into the lady's shop with a warning that she should comoly with their rules. 
The clerics, led by a one Sala Ayodeji, were captured intimidating and harassing the woman.
Their actions included issuing threats of causing chaos unless the lady vacate the premises within a period of eight days.
The clerics who were about 15 in number, also rolled out their demands, with one of them, at a point, threatening to destroy all the goods in the shop should the lady argue with them.
In the video published on X, formerly Twitter on Friday, Ayodeji, instructed the landlord to refund the rent and evict her as 'Isese' devotees are not welcome in that part of the town. 
Ayodeji, also mentioned that the Kwara state police commissioner, Ebunoluwa Rotimi Adelesi, is aware of their visit stressing that the young lady, had eight days to vacate the premises.
Speaking in Yoruba Language, Ayodeji said, "In seven days, the Alaran family should refund their money and evict them.
"If we come back in seven days and meet them here, the situation will be worse than this.