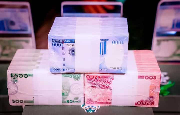 Business
January 31 is deadline for old N200, N500, N1,000 —CBN
CITIZENS COMPASS– The Central Bank of Nigeria (CBN) has insisted that old N200, N500 and N1,000 notes will cease to be legal tender in the country as from Tuesday, January 31, 2023.
The CBN Governor Godwin Emefiele reiterated the apex bank's stance after the Monetary Policy Committee meeting in Abuja on Tuesday.
Emefiele also insisted that enough time had been given to Nigerians to swap their old Naira notes for new ones.
This is as he also said that kidnapping and ransom-taking had reduced since the three banknotes were redesigned.
Many Nigerians have however lamented the unavailability and scarcity of the new notes, decrying that banks up till today, were still giving out the old naira notes to customers with the deadline only a few days away.
Meanwhile, the CBN in its efforts to ensure that everyone is carried along embarked on a cash swap programme nationwide to enable those in the unban areas to exchange their old notes before the January 31 deadline, however, excluding Lagos and Abuja mobile money/Point of Sales operators from the programme.
The CBN also recently ordered commercial banks to immediately stop over-the-counter withdrawal of the new notes and load their Automated Teller Machines with the redesigned naira notes to boost its circulation.
However, despite the efforts of the apex bank, bank customers have continued to lament the scarcity of the new notes
Meanwhile, the Senate on Tuesday similarly appealed to the apex bank to extend the deadline by six months as well, from January 31 to July 31, 2023.