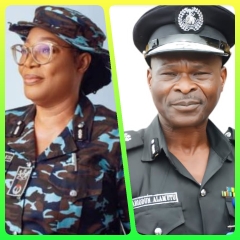 Security
Kwara gets first female CP 
… Ogun gets new CP too
CITIZENS COMPASS – FOR the first time in the history of Kwara State. her Police Command now has a female Commissioner of Police in the person of Ebun Oluwarotimi Adelesi. 
Ebun's appointment was announced over the weekend to succeed Paul Odama who has been redeployed following his promotion as Assistant Inspector-General of Police.
The new CP is not a first timer at the Command as she served as deputy commissioner of police (administration) when the Acting IGP, Kayode Egbetokun was Kwara CP.
Popularlly known as "Iron Lady", she was promoted as Commissioner of Police following her redeployed to Lagos State Command as CP General Investigation.
According to the Police Public Relations Officer (PPRO), Ajayi Okasanmi, on Sunday, the new CP served in the state between 2020 and 2022.
Okasanmi said although the CP was yet to resume, she is expected "hopefully before the end of the week".
Adelesi's crime-fighting capacity and combat readiness was affirmed by officers at the Command who worked with her.
She was described as a diligent and no-nonsense officer, qualities which earned her the nickname "Iron Lady".
Ogun gets new CP too
Similarly, Ogun State Police Command has announced Alamutu Abiodun as the 36th Commissioner of Police for the state.
Alamutu, a Deputy Commissioner of Police in Ogun State in charge of Administration and Finance since 2019 takes over from, Olanrewaju Yomi Oladimeji recently promoted to be Assistant Inspector General of Police, Zone 12, Osogbo.
Alamutu joined Nigeria Police Force on the 18th of May 1992 as a Cadet Assistant Superintendent of Police, Course three at the Nigeria Police Academy Kaduna between 1992 and 1994. He holds a Bachelor degree in Economics from Lagos State University.
He proceeded to Gwoza Maiduguri in 1993 for Police Mobile Force, Anti riot and Tactical maneuvering training. Later that year he participated in the Citizenship and Leadership Course in Jos. In 1995 he was in Lagos State for  Executive Traffic Management Course.
Alamutu has attended several development courses as stipulated by the Nigeria Police and he is an active member of  International Association of Chief of Police, USA. 
Since his employment in 1992 into the Nigeria Police Force, he had served in most of the States even in the toughest terrain as a seasoned officer of repute exhibiting bravery on  his job where he garnered both administrative and operational experiences over the years.
He had served across different police formations in the country such as an officer in Charge of Okuta Police Post in Kwara Police Command between 1994 – 1996, Unit Commander, Police Mobile Force 2 Sqaudron Keffi Lagos State 1996- 2000, Deputy Commander, Police Mobile Force 26 Squadron Uyo Akwa Ibom State 2000-2002 as well as Commander, Police Mobile Force 26 Squadron, Akwa Ibom State 2002-2005. 
The CP was also the Divisional Police Officer, Ajuwon Division, Ogun State Police Command 2005- 2006, Divisional Police Officer Isara Division, Ogun State Police Command 2006-2007, Deputy Commander, Gateway Response Squad, Ogun State Police Command 2007-2009 and Commander Gateway Response Squad Ogun State Police Command 2009-2011. 
He was transferred to Ekiti State in 2011, worked in other police commands in Lagos and Abuja before he got back to Ogun State command in 2019 as the Deputy Commissioner of Police, Administration and Finance department until his elevation as the new substantive helmsman for the police in the state.