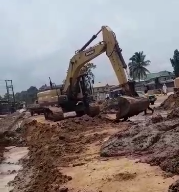 CITIZENS COMPASS– RESIDENTS of Emily and Macaulay areas of Igbogbo/Baiyeku Road, Ikorodu Division, Lagos State, have applauded the state government for carrying out palliative measures on the failed portion of their road.
They spoke with Citizens Compass on Sunday evening, as the state government through the Lagos State Public Works Corporation carried out the palliative measures on the failed portions of Emily and Macaulay bus-stops.
Some of the residents were seen praising and offering prayers for the government.
A resident, Mr Onakoya Gabriel said the dilapidated Igbogbo/Baiyeku Road had almost forced him to relocate from the area. He said, "I left my family here while I squat with a relative in Gbagada area of Lagos to enable me meet up with my resumption time in Lagos Island but my wife did not buy the idea and we have resolved to put up the three-bedroom flat for sale.
"However, I had a rethink when I noticed the palliative work being done today."
Another resident, Adebiyi Grace said the measures will boost economy in the area as despite that many of her customers have since left her due to the dilapidating nature of the road.
I am happier today. May God bless this government."
She said.
When Citizens Compass visited the site, an escavator, a payloader and five trucks of stones were seen branded after Lagos State Public Works Corporation as some community leaders were on ground to monitor the exercise.
The job was supervised by Engineer Olajide Badmus of Lagos State Public Works supported by representatives of Community Development Committee, CDC in Igbogbo/Baiyeku.