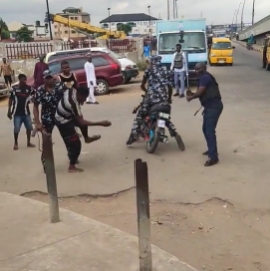 Community
Lagos CP visits Okada rider brutalised by officers in Abule – Egba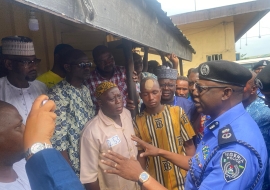 CITIZENS COMPASS – THE Lagos State Commissioner of Police, Idowu Owohunwa has visited the okada rider, who was assaulted by some police officers in Abule – Egba area.
The CP visited the rider on Thursday, May 18, 2023. 
This was disclosed on Thursday, May 18, 2023, by Spokesperson, Lagos State Police Command, Benjamin Hundeyin on his Twitter handle. 
The brutality came to the public in a viral video on Wednesday, May 17, 2023. 
It captured three policemen brutalising the rider. 
One of them was seen hitting his baton on him as another was pushing him away. The man, who tried to wrestle his bike with the policemen, sustained injuries on his fore head with blood gushing from it.
The third policeman rode away on the victim's bike while the two others immediately left the scene in a tricycle.
Reacting to the video, the spokesperson said that Owohunwa condemned the policemen's actions and told the public that disciplinary action had already been taken against the men.
He said, "CP Idowu Owohunwa today visited the young man involved in this incident and members/leadership of the Hausa community in Abattoir Market, Agege.
"The CP, who condemned the excessive use of force by the policemen in enforcing the existing ban on use of motorcycles in certain parts of Lagos State, has assured members of the public that the disciplinary measures already initiated against the men would be brought to a logical conclusion and the outcome made public.
"The Command will continue to ensure that the rule of law is upheld, while not relenting in enforcing the laws of the land.