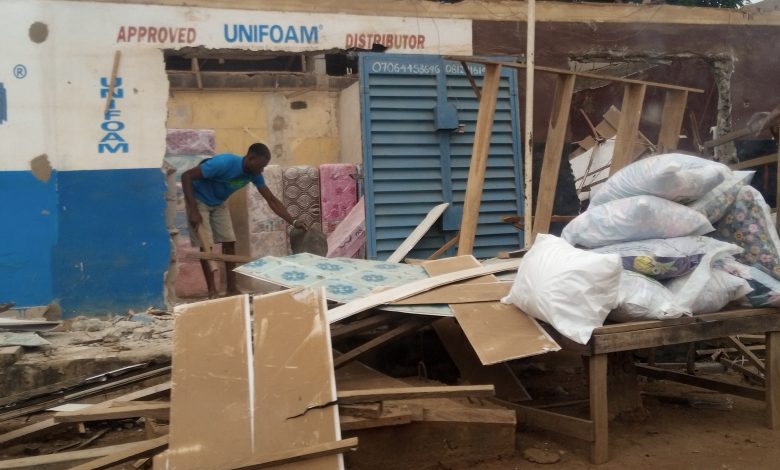 CITIZENS COMPASS– SCORES of structures along Igbogbo/Baiyeku in Ikorodu Division, Lagos State, are currently being demolished by the Lagos State Government to pave way for rehabilitation of the road.
The demolition exercise began on Thursday, August 11, 2022 and commenced from the council secretariat with the demolition of the perimeter fencing. 
Citizens Compass learnt that the project being handled by Lagos State Public Works Corporation is to be done in phases with the first phase terminating at Prince Abiodun Ogunleye Estate while the second is to terminate at Baiyeku.
So far, shops, makeshift structures and perimeter fences of some buildings were demolished.
Citizens Compass observed cooperation of property owners with the state government as the structures had been marked for demolition. 
Some residents and shop owners who spoke with our correspondent expressed happiness at the road rehabilitation but urged government to commence the second phase of the project in earnest. 
A tour of the area revealed that Morekete Junction down to Baiyeku as well as some inner roads within Igbogbo and Baiyeku are begging for government attention. 
Citizens Compass observed that Emily bus-stop, Macaulay, Community, Unity, Maternity, Graceland, LFI and Cele Papa down to Alamala are all in sorry states.
A resident, Mustapha Ogedengbe said Igbogbo/Baiyeku Road had dilapidated to the extent that some transporters have withdrawn their services. He said, "fares have increased and we pay heavily on transportation. The government should see it as a matter of urgency to rehabilitate the second phase of this road,"
In Igbogbo, a shop owner Sade Mutiu said she may find it difficult to rent another shop. "Renting of shops is costly this time around and I don't know where to start from,"
At press time, some shop owners were seen brazing up to forge ahead.
Earlier, Chairman, Igbogbo/Baiyeku Local Council Development Area (LCDA), Olusesan Daini in a statement said the road will be given a face lift.