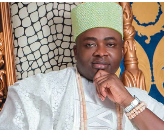 Community
Lagos monarch fixes 'Oro' festival on election day
CITIZENS COMPASS– RESIDENTS of Ikate Kingdom and it's environ in Lagos may be denied opportunity to exercise their voting rights owing to the fact that their traditional ruler has announced three days 'Oro' Festival in the town.
According to the traditional ruler, the Elegushi of Ikate-Elegushi Kingdom, Oba Saheed Ademola Elegushi, Kusenla III, the 'Oro' Festival waa to commence on
Wednesday, March 15, 2023 till Saturday March 18, 2023.
The monarch announced his intention through social media messages which reads, "PUBLIC ANNOUNCEMENT!
HRM. ALAYELUWA OBA SAHEED ADEMOLA ELEGUSHI, KUSENLA III. ELEGUSHI OF IKATE KINGDOM AND ENVIRON.
WISH TO ANNOUNCE TO THE GENERAL PUBLIC THAT THE ORO RITE WILL HOLD IN THE IKATE KINGDOM AND ITS ENVIRONS FROM TOMORROW WEDNESDAY 15TH MARCH 2023 TO SATURDAY 18TH MARCH 2023. (3DAYS)
RESIDENCE AND PASSERSBY ARE WARNED TO STAY INDOORS OR STAY OFF THE KINGDOM BEFORE MIDNIGHT THAT THE RITE WILL COMMENCE TO 5:30AM ON EACH DAY.
THIS EXERCISE IS FOR THE GOOD OF ALL, PLEASE LET US COOPERATE AND COMPLY WITH THIS ANNOUNCEMENT REGARDLESS OF YOUR STATUS.
HIS ROYAL MAJESTY REGRETS ANY INCONVENIENCE.
ONILU ONI JE KI ILU O TU
OLORUN ELEDUMARE A GBA IWURE WA. ASE O. . . . . .
If you like say it is no man's land and refuse to obey, it is your shi-shi. !!!
The announcement has generated controversies as many see it as a ploy to help the ruling All Progressives Party (APC), rig the elections.