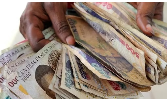 Business
Lagos residents accept old naira notes amidst confusion
CITIZENS COMPASS– Amidst confusion, Lagos residents on Tuesday, began to accept the old N200, N500 and N1,000 banknotes for various transactions following announcement from the Central Bank of Nigeria (CBN) that the old Naira notes will co-exist with the new notes.
Many Nigerians were expectant about the CBN statement by its acting Director, Corporate Communications, Mr Isa AbdulMumin who on Monday, directed the commercial banks to comply with the Supreme Court judgement of March 3.
CBN said: "Accordingly, the CBN met with the Bankers' Committee and directed that the old N200, N500 and N1,000 banknotes remain a legal tender alongside the redesigned banknotes till Dec. 31.
"Consequently, all concerned are directed to conform accordingly.
A visit to some commercial banks, markets and filling stations in Lagos revealed that traders had started accepting the old Naira notes and also giving it as change.
The correspondent, however, observed that while traders and residents of the state had fully complied to transact with the old Naira notes, some banks were yet to start dispensing both the old and new Naira notes.
Lagos residents were seen in large numbers at the entrance of some of the commercial banks visited around Iyana-ipaja, Ikotun, Ikeja, Sango, Oshodi and other areas of the state with a hope to get cash.
However, a bank official, who pleaded anonymity, claimed that they do not have both the old and new Naira notes in their custody to dispense to customers.
"We do not have money to give our customers, that is why we are not paying cash.
"We are hopeful that we will get money from the CBN, following the directive," the official said.
A bank customer, Mrs Gift Amomo, expressed worry, saying that the cash crunch still persisted, in spite of the CBN's directive on the recirculation of the old Naira notes and willingness of the public to accept it.
Amono said: "I just entered the bank but was I told that there was no cash. Both the old and new Naira notes were not available for us to collect.
A PoS operator at Isolo, Mrs Funmi Gbadamosi, said that she was yet to be to collect cash from banks to facilitate her business but had started collecting the old notes as directed.
Gbadamosi said, "there is still so many queues at the banks and many of the banks were not paying yet.
"Although, we have started collecting the old Naira notes, we are yet to get them easily from the banks.
Mrs Taiye Aibor, a trader at Ipaja Market, said that both sellers and buyers in the locality had started collecting the old noted since they heard of the CBN's directive.
-The Nation