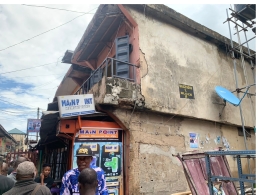 CITIZENS COMPASS – TO guide against negative stories surrounding  demolition of buildings at Alaba International Market in Ojo Local Government of Lagos State, the State Government says it will set up a joint working committee to resolve the issues The committee is to help clear some of the misunderstandings surrounding the demolition exercise. 
According to the state government, members of the joint committee will include market leaders.
Governor Babajide Sanwo-Olu disclosed this shortly after a meeting with Governor Hope Uzodimma of Imo State, Deputy Speaker of the House of Representatives, Hon. Ben Kalu, and some Igbo market leaders in Lagos on Friday. 
Recall that some individuals have accused the Lagos government of targeting a certain tribe in the country in the recent demolition of some buildings at the Alaba International Market.
Debunking the accusation, Sanwo-Olu said that some of the misconceptions surrounding the actions of the government have been cleared in the meeting, adding that the committee will go around to verify things.
We just finished a meeting between myself and the Governor of Imo State, Hope Uzodimma, and the Deputy Speaker Honourable Kalu and other market leaders of our various Igbo markets in Lagos, some community leaders, and also some state government officials.
"The meeting had gone on successfully, we discussed issues around a common interest, especially issues bordering on the recent demolition around Alaba Market where there has been a lot of wrong information and communication. 
Our conversation here this afternoon has cleared the air. We have seen that indeed there is a need for us to further collaborate. Where wrongs have been expressed we have corrected all of the issues and the views and we have jointly set up a small working committee that will go around, verify, and see things for ourselves and be able to put all of the negative information and media review out correctly," Sanwo-Olu said.
Sanwo-Olu also appealed to the people to go about their normal business without any fear, adding that the government will always listen to them and allow everybody to do well and run their businesses.
Speaking, Governor Uzodimma thanked Sanwo-Olu for listening to the concerns they raised with him and his proactive action in setting up a committee to immediately look at the issues.