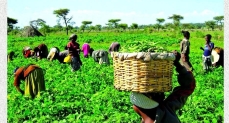 Business
LAPO empowers farmers with N9bn
.. sensitizes 12,997 persons on cancer
CITIZENS COMPASS – Lift Above Poverty Organization (LAPO) has disbursed N9 billion to rural farmers and micro business owners in the first half part of the year 2023.
LAPO Executive Director, Dr. Honestus Ayo Obadiora disclosed this over the weekend stating that the funds were disbursed to 191,134 farmers across 310 branches nationwide between January and June 2023 through the LAPO Agricultural and Rural Development Initiative (LARDI).
He expressed satisfaction with the progress of the beneficiaries, noting that many have significantly expanded their farmlands and business operations with improved income.
He explained that LAPO addresses the challenges limiting farmers' productivity and income such as the non-availability of inputs for improved farm yield and limited access to finance, adding that the organization is also engaged in the capacity development of rural farmers and business owners through on-farm demonstration, workshop and training programmes.
According to him, LAPO is strongly committed to the mandate of improving rural agriculture, food security and the general living condition of rural dwellers, particularly women-headed households and youths through flexible and affordable financial services.
He explained that Nigeria's agricultural sector has a strong potential to provide adequate food for its teeming populace and supply raw materials to a growing industrial sector, which constitutes a major source of foreign exchange and employment in the country.
Similarly, LAPO has restated its commitment to cancer prevention in Nigeria through the implementation of the LAPO Community Campaign for Cancer Control (LAPO-C4) project.
Obadiora said the organization has since 2016 been involved in the battle against cancer through the implementation of the LAPO-C4) project in Nigeria with Lagos, Imo, Abuja, Rivers and Edo as focal states.
Over the years, he said the organization has played a major role in improving the health status of rural community members by addressing maternal and child health issues, the challenges of malaria and other tropical diseases across the country.
In the First Half of 2023, Dr. Obadiora said LAPO conducted mass cancer awareness campaign across the target States where it sensitized 12,997 community members, screened and referred 164 persons for further screening and treatment in government-approved health facilities. 
He noted that 37,412 community members were also enlightened on cancer through Information, Education and Communication (IEC) materials during the period. 
The Executive Director explained that more than 50% of cancer cases occur in developing countries, disclosing that the ailment is the second most common causes of death after cardiovascular disease, constituting 12% of all deaths  and killing more people than HIV/AIDS, tuberculosis and malaria combined. 
… improves health conditions of 1.1m people 
In a related development, LAPO has improved the health and social conditions of 1,112,145 targeting community members across the country in the half part of the year. 
A total of 78,939 persons were reached through direct community intervention by LAPO health workers while 1,033,206 persons were reached through mass sensitization and media campaign.  
According to Dr. Honestus Ayobami Obadiora, Executive Director, the beneficiaries were mostly clients of LAPO Microfinance Bank in Edo, Kogi, Enugu, Rivers, Zamfara, Lagos and Abuja.
They were sensitized on the necessity of antenatal care, immunization, nutrition, family planning, water, sanitation and hygiene and equally screened for health conditions such as blood pressure, hepatitis, malaria and blood sugar level, towards improving their health status and general wellbeing.
Dr. Obadiora identified some challenges inhibiting health care system in Nigeria to include dearth of trained medical and paramedical personnel due to brain drain and the inefficient utilization of services provided by the government.  
"More than 85% of the populace resides in the rural areas where medical facilities and coverage are far from adequate. As a consequence, the maternal and infant mortality rates for Nigeria as a whole remains very high. Again, the persistently high disease burden in the country fuelled by poverty, insufficient sanitary arrangements, poor health care standards, and low public concern over health and medicine continue to contribute largely to the non-satisfactory performance of the health sector," he said. 
He however expressed optimism that with the involvement and support of all stakeholders in health awareness creation and provision of medical facilities, the narratives of poor health care standards and high maternal mortality rate in Nigeria would change.
The LAPO boss tasked members of the public to imbibe the culture of timely medical intervention and regular checkup to facilitate early detection and management of health conditions, adding that routine health screening and awareness creation by LAPO has contributed significantly to the wellbeing of community members.