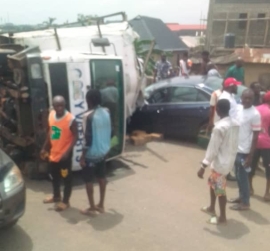 CITIZENS COMPASS – Lagos State Traffic Management Authority (LASTMA), says it rescued a truck driver who was involved in an accident on Cele-Egbe Bridge inward Ikotun, Lagos.
LASTMA said the victim was unconscious as at the time rescue operation took place on Sunday, April 30, 2023,
LASTMA spokesperson, Adebayo Taofik, in a statement on Sunday, said one of its officers, Anjorin Adeola (Zebra 7 Ejigbo) who led the rescue team confirmed that the unconscious accident victim was the truck driver involved in an accident where a white six tyre truck with number plate, FFF 996 XB, laden with biscuits fell on an unregistered blue Toyota Camry (Unregistered) inward Ikotun, Lagos. 
" LASTMA Anjorin further confirmed that the accident was very serious as the side of  the truck fully loaded with biscuits fell on top of a blue (unregistered) Camry car.
" He stated the Lastma Officials handed over the rescued unconscious accident driver to Police men from Ejigbo Divisional Police Headquarters.
" The General Manager of LASTMA Mr Bolaji Oreagba disclosed that the Agency is currently extending public education/enlightenment on speed limit to motor parks including truck/trailer garages across the State
" While imploring  motorists to exercise necessary cautions before over-taking high capacity buses/trucks on highways, Mr. Oreagba maintained that speed limit sign posts erected by the government be strictly adhered to by all motorists. "