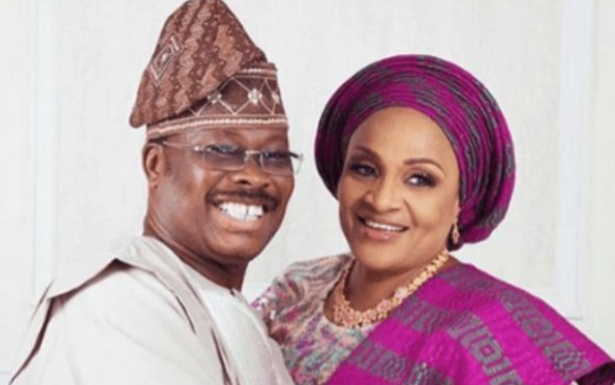 THE widow of former governor Abiola Ajimobi of Oyo State, Florence, says life without her husband has been difficult in the past one year.
The former governor died in Lagos on June 25, 2020 after battling coronavirus-related symptoms.
Florence said in an article published on her blog on Friday that the past year was difficult adjusting to life without her husband.
"I got back to Nigeria from my May trip this year, there was no expectation. No one to pamper me like Biola did. I told myself 'You are all alone, so get it,'" she wrote.
The former Oyo first lady further wrote, "Christmas in 2020 was nothing like it had always been for us. The entire family planned a trip to Dubai for the holiday, hoping it would make me happy but it didn't. It was a very sad Christmas for me. Every 31st of December, he would drop me at church for the New Year's Eve service, go back home to say his prayers and pick me once I'm ready.
"On the 1st of January, he would send wishes, prayers, and admonitions for the New Year. He did this consistently for 40 years. This year, I didn't get anything from him…no wishes, no prayers, no words of affection, no words of advice…nothing.
She added, "I still have problems with my sleep pattern. One day I woke up and reminded myself that all my tears have not brought him back, so I have to live with the reality of my pain and misery. I began to identify the places and events that trigger my emotions and learnt how to manage them. This actually helped lessen the intensity of my feelings as I have come to the conclusion that my heart can never heal, it is a life-time process."
Florence said she adopted several strategies which have become therapy for her.
"So, now, I wake up every morning, write a piece about him, watch videos of him and then talk a lot about him (to those who care to listen and can't complain that I bore them)," she wrote.