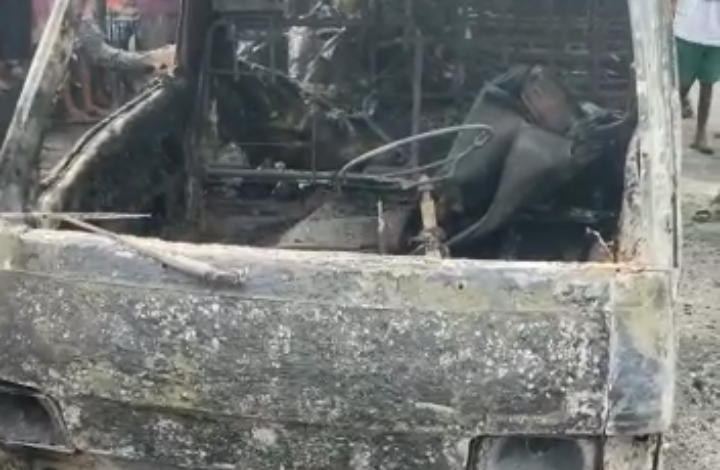 CITIZENS COMPASS– SEVEN passengers of a Mazda bus including a male child, were reportedly burnt to death while six others sustained varying degrees of injuries, on Sunday, at Iyana-Oworo, Lagos State, when the bus skidded and went up in flame.
The incident occured at about 3pm, outward Alapere.
Among those injured was the bus driver who was said to have escaped the scene despite the injuries he sustained.
According to eye witnesses', account, driver of the bus with number plate, LAGOS KJA 699 YG, with 13 occupants on board, was driving recklessly from Alapere area to link Lagos Island.
However, he erroneously veered to the wrong lane which led to a different direction.
As he veered to the wrong lane, the passengers went shouting and he attempted to reverse the vehicle towards Iyana-Oworo axis but in apprehension, he hit the keb.
On noticing this, he tried manipulating the vehicle but ended up hitting the road median and the vehicle fell to the right side spilling fuel which resulted in a spark.
It was gathered that the 13 occupants in the bus were trapped as the bus went up in flame.
However, two passengers on the front seat and the driver found their ways out but with serious burns.
A distress call went to law enforcement operatives who rushed to the scene and rescued three more passengers but seven were burnt beyond recognition.
Citizens Compass could authoritatively reveal that the bus in question belonged to a branch chairman of transporters in Ajah and had been booked to travel outside Lagos on Monday, September 26, 2022.
Confirming the incident, the Permanent Secretary, Lagos State Emergency Management Agency, LASEMA, Dr Olufemi Oke-Osanyintolu, said investigation gathered at the scene revealed that the incident occurred due to recklessness and overspeeding by the driver which resulted in the fire.
"Fortunately, the driver escaped with some burns, 3 female adults were rescued and rushed to Gbagada General Hospital while a male adult was attended to by LASAMBUS at the scene.
"Unfortunately 7 victims were burnt to death (4 female, 2 male adults and 1 male child ) in the bus.
"All the remains have been bagged by the Agency's LRT Paramedics, LASAMBUS official and handed over to SEHMU.
"Arrangements have been made by LASTMA official at the scene for removal of the burnt vehicle from the road.
"LRT alongside LRU Paramedics LASTMA, LASAMBUS, SHEMU and NPF are responders at the scene. Road is partially opened for vehicular activities."