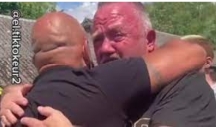 CITIZENS COMPASS – A man in Belgium faked his death and then turned up to his own funeral in a helicopter as part of a dramatic stunt to teach his family a lesson about staying in touch.
David Baerten, 45, a TikTok creator, told his wife and children about his elaborate plan and they helped him to pull it off by going along with it on social media.
One of his daughters helped to trick his followers in what many online have slammed as a cruel 'joke', writing on social media: 'Rest in peace Daddy. I will never stop thinking about you.
Why is life so unfair? Why you? You were going to be a grandfather, and you still had your whole life ahead of you. I love you! We love you! We will never forget you.'
They staged a funeral last weekend near Liege and as mourners gathered Baerten, who goes by Ragnar le Fou online, made a grand entrance with a film crew by helicopter
The 'pitiful' prank by the TikToker, who has 162,000 followers, has received serious backlash from some quarters.
Baerten was forced to explain his actions, The Times reports, suggesting that he did so to see how his wider family would react after he claimed they had fallen out of contact with him.
What I see in my family often hurts me,' he said. 'I never get invited to anything. Nobody sees me. We all grew apart. I felt unappreciated.
'That's why I wanted to give them a life lesson, and show them that you shouldn't wait until someone is dead to meet up with them.'
Baerten has not yet released the full video of him arriving by chopper.
A fellow TikTok user, who was attending the funeral, shared footage of it landing in a field where friends and family were gathered.
Many rushed over to greet and hug Baerten as he emerged from the helicopter, no doubt explaining himself to those in attendance.
His close friend Thomas Faut shared a video of the two men hugging after they were reunited, captioning the emotional clip 'you got us'.
"I swear I was crying and then I had the shock buddy, we love you very much,' he said of the emotional reunion, despite his friend's deception.
Baerten said that while 'only half of my family came to the funeral' other relatives have since reached out.
'That proves who really cares about me,' he said. 'Those who didn't come, did contact me to meet up. So in a way I did win.'
Some of his fans agreed that it was a valuable 'life lesson' for his family and told him to 'ignore the haters'.
Many admitted they themselves had been deceived by the prank, but that they were relieved he was alive.
–Daily Mail