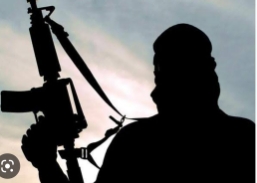 CITIZENS COMPASS – A man has jumped off a flyover bridge in a bid to escape being whisked away by some suspected gunmen who operated unhindered in ibadan, Oyo State.
The incident occurred at about 12:30 pm at Molete, on Monday, April 3, 2023.
Eye witnesses account said the young man jumped off the flyover bridge as armed men snatched a Lexus Jeep on gunpoint and whisked its owner away to an unknown destination.
The gunmen, who were said to have dressed in black, allegedly hijacked the car from the owner at gunpoint along Molete fly-over bridge in Ibadan, the Oyo State capital, after sporadic gunshots, which forced residents of the area to scamper for safety.
During the scene, it was reported that two passengers were in the stolen car, the car owner and a passenger who jumped off the bridge to escape from the scene.
In a chat with the escaped passenger, a young man in his late 30s stated that they were trailed to the robbery scene before they were finally stopped by the gunmen, who collected the car keys before taking away the car along with the car owner.
"We were trailed and stopped here on the bridge, they fired gunshots, and because of the fear of being shot, I ran for safety by jumping off the bridge.
They snatched car keys and fled with the car and the owner."
The young man added that the car owner had just bought the car after he won a sporting bet he won recently.
While some eyewitnesses claimed that the victim was robbed and whisked away because he is suspected to have  a deal with the gunmen before the incident, others alleged that the car owner might have duped the gunmen before being trailed to the scene
At press time, the car owner and the car's destination are unknown.
–Tribune