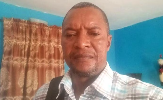 CITIZENS COMPASS- A London-based Nigerian has been declared missing, on his way to board a London-bound flight at Murtala Muhammed International Airport in Lagos.
The 40-year-old man identified as Gbenga Maxwell Ajayi had gone missing since Friday, November 11, 2022.
He had sent a WhatsApp message to his agent who booked the flight, stating that something was being sprayed in the bus he boarded and that passengers were feeling dizzy.
According to the arrangement on ground, Maxwell was supposed to travel to London with Ethiopian Airlines whose departure time was by 1:40pm on Friday and to arrive in London, 6:35pm on Saturday.
However, he was later declared missing after the person that was supposed to receive him in London said he was not onboard.
The information in a WhatsApp chat also showed that at 9:44am, when he was leaving the house, he chatted with the agent telling him he had ordered a cab to take him to the airport.
How he later boarded a public transport
where something was sprayed to cause dizziness could not be ascertained.
At press time,  Maxwell relatives were combing everywhere searching for him.