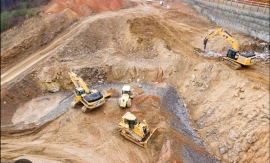 CITIZENS COMPASS – A mining site in Kogo Kadage village in the Yadagungume area of Ningi Local Government Area of Bauchi State has collapsed on four miners killing them on the spot. 
The incident reportedly occurred on Saturday night when the miners were digging lead and trying to excavate it.
The source who didn't want to be mentioned, disclosed that people have been there for over one month mining and excavating lead, one of the mineral resources common in the area, when suddenly one of the holes they dug collapsed on them and buried them underneath.
According to him, the four miners died instantly after they were removed from the collapsed site.
The Caretaker Committee Chairman, Ningi LGA, Ibrahim Zubairu, described the incident as sad and tragic, noting that four people were trapped in the pit while three died instantly.
He said that the illegal mining site is located in the Kogo Kadage forest, seven kilometres away from Yadagungume town.
Yesterday (Saturday), I was informed that four people were trapped in a mining pit, I directed that they should be rescued. Later on, they reported back to me that they recovered three bodies."
"I don't know about the illegal activities of the locals because we have banned all sorts of illegal mining in the entire local government area, it came to me as a surprise when I got the report of the incidence," he said.
The chairman, however, said that he has constituted a committee tasked with the responsibilities of checkmating the illegal mining activities and land-related matters and also directed the Burra Divisional Police Officer to investigate the illegal mining sites.
Zubairu warned people to desist from illegal mining activities as the government would not spare anyone caught wanting.
The caretaker chairman condoled the family members of the deceased.
The PUNCH reported that on April 27, 2023, the member of the Bauchi State House of Assembly, Musa Nakwada, while speaking under matters of urgent public importance during plenary, said two women were killed after a mining pit collapsed on them at Bar Kudu in Bogoro Local Government Area of Bauchi State.
Nakwada who represents Bogoro Constituency said that three other women sustained various degrees of injuries and fractures but did not give further details on the incident.