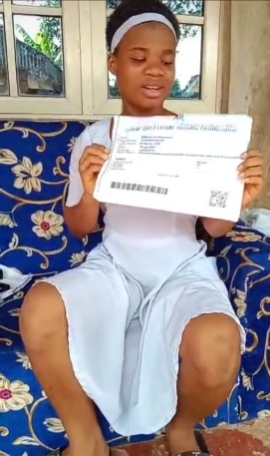 Education
Mmesoma's father begs JAMB for forgives over forged result  
.. says daughter lied to him
CITIZENS COMPASS – Mr. Romanus Ejikeme, father of embattled Anambra Student, Mmesoma Ejikeme, who recently confessed to the forgery of the result of her 2023 Unified Tertiary Matriculation Examination (UTME), has asked Nigerians and the Joint Admissions and Matriculation Board (JAMB) to forgive his daughter. 
He said the girl didn't tell him the true position of her "crime".
Recall that JAMB had last Sunday accused Mmesoma of manually inflating her 2023 UTME result from 249 to 362. The embattled student had gone ahead to obtain a scholarship from Innoson, a scholarship which has now been withdrawn.
Despite multiple pleas by the Board, Mmesoma insisted her result was not forged and noted that she printed her result from the website of JAMB.
Following her insistence, the Board slammed a three-year ban on her with the House of Representatives calling for a stay of action.
Speaking in an interview with the Nigeria Television Authority, Mr. Ejikeme said, "My daughter didn't open up to me on time. When I realised the mistake she did, I blamed her a lot but I'm still apologising to JAMB and Nigerians to pardon her."
Many Nigerians who had earlier shown support for her began to withdraw support while others have started tendering unreserved apologies to the Board following her confession.
A former Minister of Education, Oby Ezekwesili has pleaded that she be sent for counselling with another former minister, Osita Chidoka who is the owner of the center where Mmesoma sat her UTME calling for a pardon for the candidate.